Taylor Swift Threw Serious Shade at Kanye West During Her Grammy Acceptance Speech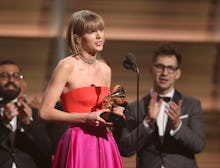 Matt Sayles/AP
When Taylor Swift's 1989 won the Grammy Award on Monday for album of the year, a revenge window opened and she dove through it, using her acceptance speech to throw some serious shade at Kanye West. In a song on his latest album, The Life of Pablo, West alleges he is Swift's claim to fame.
"I feel like me and Taylor might still have sex," he raps. "I made that bitch famous."
Read more:
During her acceptance speech Monday, Swift fired back, alluding to West rather than naming him in a feat of warranted passive aggression.
"As the first woman to win album of the year at the Grammys twice, I want to say to the young women out there, there are going to be people along the way who try to undercut your success or take credit for your accomplishments or your fame," she said. "But if you just focus on the work and you don't let those people sidetrack you, someday when you get where you're going, you will look around and you will know it was you and the people who love you who put you there, and that will be the greatest feeling in the world."
The internet felt deeply ambivalent about the win. While some on Twitter thought the award should have gone to Kendrick Lamar, who lit the ceremony with his performance of "Alright" and "The Blacker the Berry," others were jazzed about Swift's second win of the night. 
Others seized the moment to throw some shade of their own.
Tori Kelly had a hard time keeping the disdain off her face and Twitter took note.
The rest of the world just sat back and waited for the inevitable Twitter tantrum West tends to throw in moments like these.
At the time of writing, West had yet to pitch a fit on social media.