Kendrick Lamar Got Unforgivably Snubbed Again at the 2016 Grammy Awards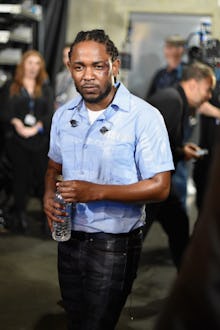 The Grammys have never loved hip-hop.
A rap song has never won song or record of the year. Historically, the only way for an MC to win album of the year has been to couch their raps in a ton of pop or R&B. Monday night, the Grammys reaffirmed that narrow view of what defines a success in that genre.
Compton, California's own Kendrick Lamar came into the 58th Annual Grammy Awards as the biggest storyline of the night, with 11 nominations to his name for his critically acclaimed To Pimp a Butterfly. He took home five trophies, but fell short in the night's biggest categories, losing song of the year to Ed Sheeran's for his nearly two-years-old single "Thinking Out Loud" and album of the year to Taylor Swift's monolithic 1989.
These were egregious snubs. To Pimp a Butterfly is easily one of the most ambitious, emotionally and politically resonant musical offerings ever attempted. It already feels distant kin to so many of to music's immortal albums: Marvin Gaye's What's Going On, John Coltrane's A Love Supreme and Miles Davis' Kind of Blue. Now all of them connected in another way: They were all snubbed at the Grammys for albums most people no longer care about.
The Grammys' decision is yet more proof that, when given the opportunity, the Grammys will always shun hip-hop in favor of awarding the most marketable, accessible — and yes, the whitest — artist possible. 
Last year, the beneficiary of their bias was Beck, snubbing Beyoncé's self-titled album over his good-but-hardly-groundbreaking Morning Phase. Kanye West raised a fit about it, later calling out the Grammys for not respecting artists.
Had he been there this year, he would have had a much stronger case to make.
1989 was Taylor Swift's attempt at a "blatant pop record." She wanted to find the one, pristine sound, unlike anything she'd ever done before, and wear it proudly. She did just that. It just so happens that one sound happens to sound like pretty much every other pop record to come out in the past few years. Additionally, it featured the same producer as many of these other records, Max Martin. He took home producer of the year at last year's Grammys for the hits he contributed to Ariana Grande, Katy Perry, Jessie J and Taylor Swift's most recent albums. The Swift and Martin sound feels tightly focus grouped, polished so it would make as few enemies as possible.
Lamar's TPAB did the exact opposite. He didn't just make an album unlike anything he'd ever done before, but something unlike anything any one has ever done before. Jazz has been sampled in hip-hop, but Lamar went for the improvisational genre's wild, mercurial soul. He mixed it with hip-hop, blaxploitation funk and smooth R&B, and filled that mold with all the most disturbed contents of his mind.
It took far bigger risks and by just about every major music publication's estimation, it nailed its mark, resulting in a near perfect Metacritic score.
TPAB sought to capture the psychic trauma of living as a black man in a country that's suspicious of your culture and person. It was bewilderingly powerful. Its songs became national protest anthems that could be heard in the streets of Chicago, Cleveland and Minneapolis. It was named as the No. 1 album of the year by Rolling Stone, Pitchfork, Spin, Billboard, Noisey, Complex and the Guardian.
However, remember that Kendrick Lamar's last album, his similarly ambitious and autobiographical Good Kid, M.A.A.D. City earned a nearly identical end-of-year reception. It too had a difficult time bringing the golden phonographs home.
In 2014, Lamar lost best rap album to Macklemore and Ryan Lewis' The Heist, a win that Macklemore even thought was unjustified. Following the show, Macklemore shared a screenshot of an apology he sent to Lamar, telling him he got "robbed" — an extremely poor choice of words considering all that white people have literally robbed from other cultures over the past few centuries.
According to Fusion, in the history of the Grammys around 72% of album of the year winners have been white. Many of them have done so playing genres that were originally black forms — from blues to rock 'n' roll to jazz to funk to R&B to soul to hip-hop to today's heavily beat-based pop.
Ironically, this historical oxymoron — of the American public's deep appreciation of black culture, but stark disregard for black lives — happens to be one of To Pimp a Butterfly's major themes.
"What you want, you? A house or a car?" Lamar raps on the album's first track "Wesley's Theory," personifying a sinister executive power who offers Lamar a slim paycheck in exchange for his talents. "Forty acres and a mule, a piano, a guitar?" It's an obvious twist on the land redistribution promise made to freed slaves following the Civil War. 
It's important to note: Out of everything that this Lucifer/Uncle Sam/record executive offers Lamar, a Grammy is never one of them.
"This is for hip-hop," Lamar said when accepting his rap album award, after sweeping all those cordoned-off categories. "This is for Snoop Dogg Doggystyle. This is Illmatic. This for Nas," naming just a handful of the classics that have been snubbed before him. "We will live forever, believe that." One of the most unfortunate realizations is that they absolutely will, without any help from the award show that claims to be the "biggest night in music."