This Woman Used Her Lottery Winnings to Buy a Homeless Man a Motel Room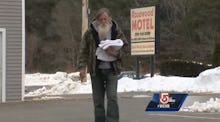 Sofia Andrade didn't win the Powerball. 
The Wareham, Massachusetts, resident was poised to take home $200 after buying a lucky scratch-off ticket on Saturday. At the moment of her good luck, she also spied a homeless man named Glenn Williams near a stop sign and decided to use her winnings to buy him a coffee and a motel room, WCVB reported. 
All of the area local shelters were reportedly full and, as anyone in the U.S. Northeast will know, Valentine's Day weekend was one of the coldest in decades. 
Read More: 9 Teen Stars Who Are Showing Adults What Being Famous in 2016 Should Look Like
"I knew that the money never really belonged to me," Andrade told WCVB. "This money was meant to help him."
"I couldn't believe there's somebody like her," Williams, who has been homeless for three years, told WCVB. "She deserves a lot of the credit for where I am right now."
The story almost went unknown, only coming to light after Andrade uploaded the details in a Facebook post. A GoFundMe page soon followed, which has now raised nearly $5,000 to help Williams going forward. 
According to the report, Williams has since been inundated with other donations from the community, including a free haircut from a local barber and a Valentine's Day card from a child.
Watch the full story here: