Best 2016 Grammy Performances Video: Watch Lady Gaga, Adele, Kendrick Lamar and More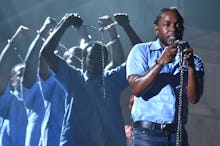 Larry Busacca/Getty Images
Monday night's 58th Grammys performances ran the gamut from heartfelt tribute to mediocre mishaps, with stellar vocals and performers having uncanny resemblances to the dead along the way. R&B hitmaker Miguel paid tribute to Michael Jackson, Alabama Shakes performed one of their greatest hits with nearly perfect vocals, Taylor Swift apparently isn't out of the woods just yet, and Rihanna was a no show, as her doctors apparently wouldn't let her work, work, work, work, work, work.
Lady Gaga wowed audiences with a medley of David Bowie's greatest hits, dressed as the recently passed entertainer's famous look from his "Life on Mars" music video. Here are some of the most memorable performances from the 2016 Grammys. 
Read more:
Lady Gaga
The singer's heartfelt ode to Bowie was just what many music fans were hoping for Monday night, and who better to put on an eccentric performance than Gaga herself. She performed some of the musician's greatest hits, including "Space Oddity," "Changes," "Ziggy Stardust," "Suffragette City," "Rebel Rebel," "Let's Dance" and "Heroes." Though some viewers were divided across social media as to whether or not the singer's ode to Bowie was more of a typical, campy Gaga putting on an act, it was certainly a stellar one to watch. Check it out below:
Kendrick Lamar
Lamar had an explosive night as well, lighting the stage on fire with a medley of two of his biggest hits, "Alright" and "The Blacker the Berry." The performance paid tribute to the Black Lives Matter movement, and joined Beyoncé's recent Super Bowl 50 halftime performance as an ode to the racial inequality and police violence in the U.S.
Alabama Shakes
Alabama Shakes proved rock and roll is far from dead at Monday night's Grammys, performing one of its biggest singles off the alternative group's latest album Sound & Color, which raked in a number of the band's first Grammys ever, including best rock album. The band's front woman Brittany Howard donned an angelic white cape as she flawlessly nailed every note in one of the band's biggest tracks, making it one of the most stellar performances of the night.
Miguel
Miguel dedicated his performance to fellow R&B hitmaker and the undisputed King of Pop, Michael Jackson. The singer performed "She's Out Of My Life" from Jackson's Off The Wall along with Greg Phillinganes who played the keyboard, and worked on the original studio version of the hit with Jackson. Though it was one of the shortest performances of the night, it was one of the most passionate, and proved to music fans Miguel is a mainstay in R&B for a reason.
The Weeknd
The Weeknd performed two of his biggest singles of 2015 at Monday night's Grammys, singing "Can't Feel My Face" and transitioning to "In The Night" while accompanied by an onstage pianist. Though it was a more subdued Weeknd performance then some fans might have hoped for, the artist looked cool, calm and collected while donning a black tuxedo and nailing each note perfectly. 
Adele
Adele performed "All I Ask" off her latest album 25, though some audiences noticed the accompanying background music felt somehow off. The musician later clarified on Twitter, writing, "The pain miss fell on to the piano strings, that's what the guitar sound was. It made it sound out of tune. Shit happens. X," the artist also shouted at the end of her performance, "I love you, Kendrick! You're amazing!" making her one of the most real artists to take the stage on Monday night.