Beth Ditto's New Line Proves Not All Plus-Size Clothing Needs to Look "Flattering"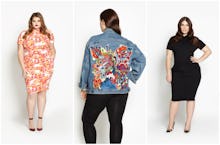 Beth Ditto isn't afraid to speak her mind when it comes to the current state of plus-size clothing for women. The punk rocker has walked in runways for Jean Paul Gaultier and Marc Jacobs and she's dipped her toe into design with her own version of Madonna's iconic, torpedo-breasted corset.
So she knows what's out there and what's missing for plus-size women — something she's now changing herself with her new eponymous plus-size clothing line, which debuted on Monday.
Think about it: When's the last time you saw a sheer, sparkly jumpsuit for a woman who wears a 1XL?
Or even tight, bright matching separates for a size 28?
In a plus-size landscape full of sack-shaped dresses, billowing tops and waist-cinching belts, Ditto is making clothing for the size 14 through 28 set that breaks the mold.
"We have to stop this idea that we have to be a certain shape," Ditto told the Huffington Post U.K. "Not everyone wants to be sexy everyday, wearing tight dresses and Spanx." 
That means resisting the go-to plus-size styles, which seem to follow an unspoken rule: that women who are curvy need to emphasize their curves in just the right places, and that if they don't have those ideal curves, they should just be totally covered. 
"The collection doesn't impose an idea of the plus-size woman to the customers," Ditto told the Huffington Post U.K. "When buying those products they are still free to make it what they want, whatever their shape is."
Other designers and celebrities are starting to speak out against that unspoken rule. "What I found with a lot of plus-size clothing was that it didn't seem cool or on-trend," Rebel Wilson told People magazine. "It was kind of like what your auntie would wear to a wedding."
"There have been the most atrocious prints on plus-size garments that would never be in straight size. Like, so many butterflies. I just can't with the butterflies," said Tess Holliday to Yahoo. About her clothing line, she said, "I wanted to do something that was edgy and sexy."
For Ditto's line, which is available online and at Selfridges department stores in the U.K., she told Vogue she wanted to make clothes that were just about being stylish, rather than body-conscious. For one sculptural skirt in particular, Ditto noted that "instead of the idea of being 'flattering,' [it] is just really interesting and cool." By selling items like graphic bubble dresses and tight separates, Ditto is doing her part to change the image of how creative, trendy and interesting plus-size clothes can be.
She is also joining other designers in a new approach to casting models. These days, a slew of young models are fighting against the term "plus size" and the separation between curvier models and "straight-sized" ones. Two of the models Ditto hired for her lookbook, Barbie Ferreira and Jordyn Woods, actually both prefer the term "curve," because they find it less stigmatizing and less size-specific.
"It creates a sad division between plus-size women when we talk about 'you are that kind of fat...' when we are all in the same boat and should love and respect each other," Ditto told the Huffington Post U.K. "It creates another division in an already way too divided fashion industry."
Dividing models, dividing store sections, dividing even which clothing styles get made for who — it's a loss for all women, but especially curvier ones. So leave it to a plus-size woman who's had years of experience perusing racks of oversized or too-tight clothing to know that sometimes, a woman larger than a size 14 really wants a fun embroidered denim jacket, or a skirt covered in lipstick stains.
Get the five stories that will challenge you to rethink the world by signing up for MicCheck Daily.