Ai Weiwei Hung 14,000 Refugee Life Jackets on a Berlin Concert Hall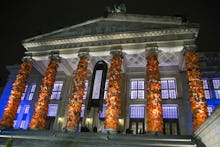 Controversial Chinese artist Ai Weiwei's latest installation, at the Konzerthaus in Berlin, has stopped many passersby in their tracks and become an international sensation in the span of 24 hours. 
Ai adorned the six pillars at the front of the German concert hall with 14,000 lifejackets previously worn by fleeing refugees on their journeys across waterways to reach Europe. At the center of the columns hangs an inflatable boat emblazoned with the hashtag #SafePassage. 
Read More: You Can Now Buy Legos in Bulk Without Having to Disclose Your Political Intentions
A number of countries in Europe have been loudly criticized by some for their inadequate response, yet Germany has been the exception. In September the country pledged to accept 500,000 refugees per year for the foreseeable future. In 2015 alone Germany accepted around 1 million refugees — more than the total number of refugees received by the United States over the past decade, as Quartz noted.
"Germany is doing what is morally and legally obliged — not more, and not less," German Chancellor Angela Merkel said on Sept. 3, according to the New York Times.
Ai opened a temporary studio on the Greek isle of Lesbos in January, the landing site for the majority of the refugees, to draw attention to the plight of those fleeing. While Lesbos' population is 90,000, almost half a million migrants landed on the island in 2015. 
"As an artist, I have to relate to humanity's struggles. ... I never separate these situations from my art," Ai said, according to the Associated Press. 
Ai documented his time in Lesbos on Instagram:
A photograph that surfaced on Sept. 2, of 3-year-old Aylan Kurdi's dead body washed up on a Turkish shore after a failed attempt to escape to Europe with his family, left the world in shock. It has since become an iconic symbol of the global plight. 
Ai, who is regarded as a dissident by the Chinese government, reenacted the Kurdi scene in January.
The vast majority of refugees landing in Europe come from war-torn Syria. Roughly half the country, or 7.6 million people, have been displaced by the political volatility and violence. 
Perhaps Ai's initiative to draw people in and galvanize them into action provides a pillar of hope.