Kendrick's Grammy Snub Was Huge, But This Mind-Blowing Album Didn't Even Get Nominated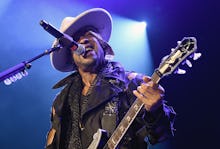 For many who watched the Grammy Awards, the big story of the night was Kendrick Lamar's 2015 masterpiece To Pimp a Butterfly getting robbed of an impending album of the year win in favor of Taylor Swift's 1989.
It sucked, yes. But another, less publicized but equally egregious, snub was D'Angelo and the Vanguard's equally ambitious, brilliant and unapologetically black 2014 release Black Messiah failing to even get nominated in the category — an absence that speaks to the cavernous gap in how the industry receives and rewards black music.
For those who forgot: On Dec. 15, 2014 — a mere four months after the fatal shooting of Michael Brown and three weeks after his hometown of Ferguson, Missouri, erupted in riots with the nonindictment of his killer — D'Angelo dropped America's first mainstream musical response to the Black Lives Matter movement.
Black Messiah featured a staggering lineup of juicy, slow-cooked R&B cuts, whose roots in the music traditions of the black South — gospel, blues and soul — proved as potent an outcry against racist police violence as Lamar's jazzier, G-funk infused West Coast offering was a portrait of the tumultuous dynamics of the black inner city. 
It has been 16 years since D'Angelo's last album, Voodoo, was a Grammy-winning stunner that cemented his status as a sex symbol and singer-songwriter talent of the first order. But his flirtation with the public eye in the years that followed pointed to a tragic decline for the Richmond, Virginia, native.
After enduring the suicide of a close friend in 2001 and struggling with alcoholism and drug addiction for years, the now-42-year-old had been involved in a near-fatal car crash in 2005 and, in 2010, was arrested for allegedly soliciting an undercover police officer for sex.
As a result, many gave up hope that D'Angelo would ever reach the artistic heights he once had. But when it finally happened, his surprise comeback was hailed as nothing short of a resurrection — a return to form that gave listeners the impression he'd barely been gone at all.
D'Angelo outlined his political intentions for Black Messiah from the beginning. "For me, the title is about all of us," he wrote in a typed intro to the album, according to Billboard. "It's about the world. It's about an idea we can all aspire to. We should all aspire to be a black messiah. It's about people rising up in Ferguson and in Egypt and in Occupy Wall Street and in every place where a community has had enough and decides to make change happen. 
"It's not about praising one charismatic leader but celebrating thousands of them."
In fact, the album is often more explicitly in-dialogue with Black Lives Matter than To Pimp a Butterfly — a fact that speaks to its proximity to the formative months of the protest movement that swept the nation. 
"Not every song on this album is politically charged (though many are)," D'Angelo explained, "but calling the album Black Messiah creates a landscape where these songs can live to the fullest. Black Messiah is not one man. It's a feeling that, collectively, we are all that leader."
D'Angelo's album went on to spark a fiery year in black music. With Kendrick Lamar's TPAB arriving three months later, Janelle Monáe's anthemic single "Hell You Talmbout" dropping in August and, most recently, Beyoncé's "Formation" music video and Super Bowl performance exploding all over Black History Month, the 14-month stretch between December 2014 and today has proven to be one of the most vibrant moments for black protest music in recent memory.
These works all managed to meld formal innovation and skill with a social message that helped bring the Black Lives Matter protests to the mainstream in ways mere marching likely could not have. 
But getting recognition from the music industry has proven a different challenge altogether. While Kendrick Lamar's album received 10 Grammy nominations and won four awards — best rap album, best rap performance, best rap song and best rap/sung collaboration — victory in the non-rap categories eluded the Compton, California, native's solo efforts this year.
The outcome further highlighted the Grammys' historical neglect of hip-hop artists in the mainstream nominating categories — only one hip-hop album in the history of the awards, Outkast's Speakerboxxx/The Love Below, has won album of the year, while artists like Jay Z, Kanye West and a veritable cadre of artists at the 1989 Grammys have spoken out about the disparity or boycotted the ceremony entirely.
Perhaps even more stark is how long it's been since a soul or R&B album has won: Outkast's historic victory for hip-hop happened 12 years ago, in 2004, but the last album of the year win for an R&B artist was almost two decades ago, when Lauryn Hill took home the statuette for The Miseducation of Lauryn Hill in 1999.
It's a shame, because soul and R&B have long been the lifeblood of black political music, and a key component of black musical innovation in general. Stevie Wonder's multiple album of the year win during the 1970s were tinged with the sorrow, beauty and optimism of the post-civil rights era, while artists like Curtis Mayfield, Marvin Gaye, the Staple Singers, Nina Simone and countless others fought for black liberation with every note they sang — whether the Grammys were paying attention or not.
In the work of these artists lies the foundation for what Lamar — whose self-love anthem "i" lifts directly from the Isley Brothers — and many other contemporary artists, including Beyoncé and Janelle Monáe, are doing now. D'Angelo is no different, and, in fact, he may personify the legacy of these artists in a more thorough and deliberate way than any of the others.
The result of these efforts is bigger than just music. It forms the soundtrack to a social movement. 
To be sure, D'Angelo and the Vanguard won two awards in R&B categories and scored a nomination for record of the year, but their album's absence from the album of the year category speaks to a continued relegation of black music — protest or otherwise — to the narrowly defined categories marketers have seen fit to drop them in.
Perhaps like the protest movement from which it was born, Black Messiah and its contemporaries will be forced to wait a bit longer before the merits of their message take hold among those in power. But that doesn't mean the people won't keep listening — or marching, or fighting, until their voice is finally heard.