Here Are the Words to Lin-Manuel Miranda's 'Hamilton' Grammy Acceptance Rap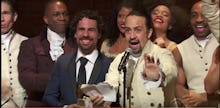 YouTube
At the 58th Annual Grammy Awards, it was quite possible that the cast of Broadway's Hamilton would capture best musical theater album. The production is a stirring blend of traditional theater music with contemporary hip-hop — and the result was overwhelmingly positive, broadening the scope of what musical theater is able to do with diversity, musical versatility and storytelling. 
As such, it's only fitting that after winning best musical theater album at the Grammys, Hamilton creator Lin-Manuel Miranda was a bit creative in the group's acceptance speech. Miranda — in celebration of the Broadway show's unique success — took one of its most distinctive elements onto the Grammys stage, rapping and rhyming the acceptance speech.
Read more:
The full text of Miranda's speech is as follows, according to USA Today:
We write music, we write songs to tell the story. Whether you're King, Kendrick or Jeanine Tesori. I'm sorry if I start screaming these thanks hysterically: John Buzzetti, Tim Latham, Tom Coyne and Derek Lee. Tommy Kail set the stage to kick our boots through. Bill Sherman, Quest and Tariq, the whole Roots crew. Sean at Warner Chapel, Riggs and Craig at Atlantic. Lacamoire, my right-hand man. This frantic Hispanic is nonstop. The best idea goes in the pot. ... The cast unstoppable. Band is unbeatable. Inimitable. Inevitable. Always inspiring me to pull through. Vanessa, Angie, Illie, Ellie, we adore you. Sebastian, daddy's bringing home a Grammy for you.
Additionally, it wasn't the first time Miranda was creative with — or rapped — an acceptance speech. Back in 2008, he won a Tony for best score for the musical In the Heights, and once again impressed the crowd with his delivery.
Check out the video of Miranda and the cast and crew of Hamilton's Grammys acceptance speech below:
Feb. 16, 2016, 10:07 a.m. Eastern: This story has been updated.