'Broad City' Season 3: Preview, Guest Appearances and How to Watch This Season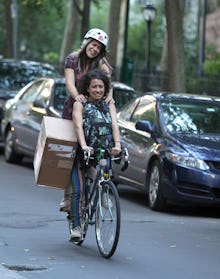 Steve Sands/Getty Images
The urban adventures of comedians/BFFs Abbi Jacobson and Ilana Glazer return with Broad City's third season premiere Wednesday at 10 p.m. Eastern on Comedy Central. Cable subscribers can view the episodes the day after their air date online or on the Comedy Central app, according to a press release. In their February 10 trailer, the girls continue their New York shenanigans, such as racing through the airport, taking a yoga class and waiting for the hyped up cronut.
The opening scene of the premiere, which is titled "Two Chainz," shows the girls holed up and living their lives — which includes lip-syncing with each other, oral sex and bongs — in their apartment bathrooms, according to an exclusive clip from Variety on Tuesday. The two also decide to search the city for a decent public bathroom, according to the press release. 
Read more:
"Three, in comedy, makes a pattern," Glazer said about the third season, according to the Guardian. "We're seeing the patterns in the show and starting to step back and see the big picture of the series."
Show regulars, such as dentist Lincoln Rice (played by Hannibal Buress) and Jaime Castro (played by Arturo Castro) also return for the next series of offbeat adventures. 
Variety reported that special guests to appear in the third season include Los Angeles Clippers forward Blake Griffin as a nightclub-attending basketball player and presidential hopeful Hillary Clinton. Sex and the City's Cynthia Nixon will also make an appearance according to the release.
Audiences might also get to see more of Rice and Glazer's romantic relationship, as the trailer shows Glazer telling Rice, "We are open sex friends, we are poly, we are bi." 
The show has also been renewed for a fourth and fifth season, the press release from Comedy Central noted. 
Below is the preview for the new season: