Grammys Snubs: Here's Who Was Robbed of an Award at the 2016 Grammy Awards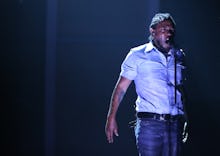 Matt Sayles/AP
The Grammys has a history of snubbing critically-acclaimed, progressive and controversial music for more traditional, mainstream radio hits. In the coveted music award show's 58-year history, countless legendary artists including Miles Davis, Bob Dylan and Joni Mitchell were all robbed of wins for some of their best music — and not much has changed since. 
R&B-pop artist the Weeknd, whose music was tamed to fit in with radio after signing a major record deal in 2012, lost to pop and radio king Ed Sheeran. Kendrick Lamar won five Grammys but his controversial sophomore album To Pimp a Butterfly, laden with intricate rhymes about black pride and growing up in Compton, lost album of the year to Taylor Swift's not-another-breakup-album 1989. 
Read more:
This year's several snubs perfectly sum up what kind of music does well at the ever-disappointing Grammy Awards.
Kendrick Lamar — album of the year
There was a lot of speculation leading up to the Grammys as to whether Recording Academy members would "do the right thing," as they do once in a blue moon, by choosing Lamar's powerful opus To Pimp a Butterfly as album of the year over Swift's 1989. They didn't. 
In such a pivotal year for diversity and Black Lives Matter in entertainment with #OscarsSoWhite and Beyonce's Super Bowl nod to the Black Panthers, some said it just felt right for Lamar's album to win the Grammys' highest honor. "Lamar's album seemed poised to win big given its timely subject matter," the Los Angeles Times' Gerrick D. Kennedy wrote. 
Nonetheless, Lamar strategically used his performance to further incorporate the Black Lives Matter message of African-American pride and oppression into entertainment with a controversial medley that opened with he and his dancers jailed and in chains for "The Blacker the Berry."
Courtney Barnett — best new artist
Australian indie-rock artist Courtney Barnett is the definition of someone who would probably never win a Grammy, but should. Her quirky music is widely critically-acclaimed but far from chart-topping or crowd-pleasing. She doesn't even follow the Grammys. "I don't know, I've never followed the Grammys, I don't know," she told Billboard in 2015 upon being nominated. "But its just nice to have that recognition on such a huge international scale."
Naturally, Barnett lost to chart-topping head-bopping Meghan Trainor, whose catchy pop music about body positivity has dominated the radio. 
The Weeknd — best pop solo performance
The Weeknd won a Grammy for "Earned It," his original song for the provocative film Fifty Shades of Grey, but didn't win a single Grammy for the music on his latest album Beauty Behind the Madness. The former indie artist lost best pop solo performance to Ed Sheeran's "Thinking Out Loud." While his loss is a letdown, the nomination in this category speaks to the Weeknd's disappointing transition from indie R&B to mainstream big-label pop music. 
Jamie XX — best dance/electronic album
Inimitable indie pop band the XX's Jamie XX was praised by critics for his "memory machine" solo album In Colour, but that praise didn't translate to a Grammy. Instead, DJs Skrillex and Diplo's duo album Jack Ü, which earned mediocre reviews but dominated the charts with hits like "Where Are Ü Now?" featuring Justin Bieber, snatched the award.