Here's Why Hillary Clinton Literally Barked Like a Dog During a Speech in Nevada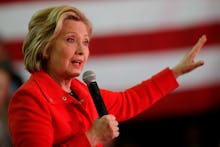 Democratic presidential hopeful Hillary Clinton isn't afraid to call out the Republican Party. She has released ads calling the GOP "backward, even dangerous," and skewered claims that she plays the "gender card," for example. But the candidate offered perhaps her most playful criticism by actually barking like a dog on Monday during a speech in Reno, Nevada, CNN reported Tuesday.
Republicans frequently make unfounded statements, such as the claim that the "great recession was caused by too much regulation on Wall Street," Clinton noted during her speech. The solution to curbing this lying, she added, may be found in a political ad that aired on rural Arkansas radio decades ago and suggested a trained dog should follow candidates and bark in response to their lies.
"I want to figure out how we can do that with Republicans," Clinton said. "We need to get that dog and follow them around and every time they say these things like, 'Oh, the Great Recession was caused by too much regulation,'" she added before barking herself.
"I think we could cut through a lot of their claims," she said.
Clinton's statement about Republican candidates is hardly unfounded. During the Dec. 15 GOP debate, for example, candidates distorted the truth about a number of issues including statements that a quarter of Muslims condone acts of violence, that Assad created ISIS and that it's impossible to vet refugees, according to an AlterNet report. The candidates have also lied about themselves: Cruz has embellished facts about his familial origins, Fiorina about her professional background and Carson about his personal history, according to an op-ed in U.S. News & World Report.
It's also possible that Clinton's demonstration served as an attempt to push back on one Trump supporter's infamous, sexist comparison of her to a barking dog at a rally, and Trump's subsequent claim that "first it was a screechy dog, then it was a very serious dog," as CNN reported in January. 
While her delivery of this message has predictably garnered some opposition, Clinton's point holds up: It's time for candidates, no matter their affiliation, to tell voters the truth.
h/t CNN