Kanye West Misses Old Kanye In "I Love Kanye," Most Arrogant Song on 'The Life of Pablo'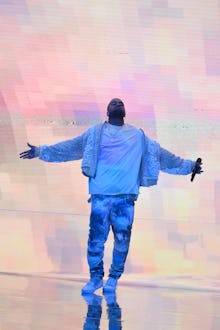 NBC/Getty Images
The Life Of Pablo received a facelift after Kanye West premiered it alongside Yeezy Season 3 at Madison Square Garden Thursday. The new track list includes a total of 18 songs which seem to reveal more about the recent history of Yeezy than it does about a famous painter or notorious drug lord. 
Yeezy's been feeling himself since releasing a fresh album, his third installment of his clothing line and new editions to his sneaker collaboration with Adidas. His ego shines more than ever in "I Love Kanye," a heartfelt tribute to... himself.
Read more:
"I Love Kanye" is meant to be one of the rapper's cockiest verses to date, as Yeezy is referencing several of the most common critiques in the mainstream media surrounding his art. He raps about how fans reminisce of an older West, the artist fans grew to love on albums like The College Dropout and Late Registration, even citing some of their very sentiments in his lyrics:
"I miss the old Kanye, straight from the 'Go Kanye/ Chop up the soul Kanye, set on his goals Kanye/ I hate the new Kanye, the bad mood Kanye/ The always rude Kanye, spaz in the news Kanye/ I miss the sweet Kanye, chop up the beats Kanye/ I gotta say at that time I'd like to meet Kanye."
West continues to lambast the rhetoric his biggest haters use against him, and recounts that most of his naysayers used to be his biggest fans. While the lyrics at first seem as though they're attacking Yeezy, West is in fact using them to hate on those who are bashing his new attitude and style:
"See I invented Kanye, it wasn't any Kanyes/ And now I look and look around and there's so many Kanyes/ I used to love Kanye, I used to love Kanye/ I even had the pink polo, I thought I was Kanye/ What if Kanye made a song about Kanye/ Called "I Miss the Old Kanye," man that would be so Kanye!"
Gotta love the good ol' Yeezy irony, no? Throughout "I Love Kanye," West is giving a nod to the viral memes which reference how much the rapper loves himself. He ends the song by essentially thanking his haters, letting them know he loves them just as much as he loves himself:
"That's all it was Kanye, we still love Kanye/ And I love you like Kanye loves Kanye."