10 Best Kendrick Lamar Songs to Introduce You to Hip-Hop's Reigning Champ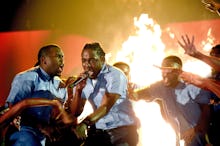 Kevin Mazur/Getty Images
Kendrick Lamar is one of those transcendental rappers capable of connecting generations through his music. Even President Barack Obama holds Lamar in high regard; he invited Lamar to the White House, and revealed his favorite song of 2015 was "How Much a Dollar Cost" off Lamar's latest album, To Pimp a Butterfly. 
Lamar's songs have become the anthem of national movements calling for racial equality and social justice. His raps are always insightful, telling the stories of black communities throughout the United States, the struggles and bonds that connect his fans throughout the world and detailing the change his generation wishes to see. 
Read more:
After picking up a number of awards at the 2016 Grammys, music fans can agree on one thing: Lamar is here to stay. Here are some of the rapper's most profound, controversial and bumping songs to date.
"The Blacker the Berry"
"How Much a Dollar Cost"
"Alright"
"Poetic Justice" featuring Drake
"Swimming Pools (Drank)"
"King Kunta"
"Black Friday" featuring J. Cole
"God Is Gangsta"
"I"
"The Recipe" featuring Dr. Dre