More Than 9,000 Uprooted in China's Ambitious Hunt for Alien Life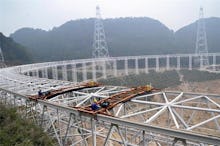 China announced Tuesday it would relocate 9,110 villagers from the country's Guizhou province to make way for the largest radio telescope in the world expected to go into operation later this year. Officials in the world's most populous nation have started their hope that the Five-hundred-meter Aperture Spherical Telescope (FAST) could help in the search for alien life, China's official wire service Xinhua reported.  
"FAST can detect incredibly distant places ... even extraterrestrial civilizations," Wu Xiangping, secretary general of the Chinese Astronomy Society, told state media, the South China Morning Post reported.
Read More: Chinese Censor: We Don't Have Censorship in [REDACTED]
The uprooted residents, who all hail from the village of Pingtang, will reportedly receive 12,000 Chinese yuan (roughly $1,838). Any resident who comes from one of China's 55 recognized ethnic minorities will also receive an extra 10,000 yuan or about $1,534.
FAST, which began construction in 2011, cost more than $180 million and surpasses the Arecibo Observatory in Puerto Rico, previously the world's largest telescope. 
It's not the first time China has casually relocated thousands or even hundreds of thousands of their own people in the name of marque infrastructure or building projects. By Chinese standards, the scale of the upheaval in Guizhou is comparatively small. 
Most famously, Reuters estimated that more than 1 million Chinese citizens were uprooted from their homes during the 17-year construction of the Three Gorges Dam. The dam, also — yup — the world's largest, was designed to provide hydroelectric power, though it ultimately came with the nasty side effect of possibly causing earthquakes. During the run-up to the 2008 Summer Olympics in Beijing, more than 1.5 million were displaced to make way for the iconic "bird's nest stadium" and other construction projects. 
Though restitution to relocated villages has been promised in Pingtang, China has long suffered from lack of follow through in actual remuneration, with land seizures of varying legality a consistent source of unrest throughout the country.