Tori Kelly's Grammy Performance Proves She's a Rising Star — Here Are 6 Reasons Why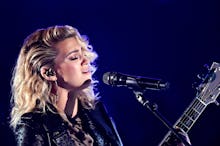 Kevin Winter/Getty Images
During Monday night's 58th Grammy Awards, up-and-coming singers James Bay and Tori Kelly took to the stage to perform a soulful acoustic duet. The two were actually both nominated in the best new artist category, although Meghan Trainor took home the award. Still, 23-year-old Kelly's nomination is proof that her powerful vocal chords are finally making her the industry's latest breakout star. 
Although Kelly's name is just becoming mainstream, the relentless singer has been breaking a sweat climbing the ranks of the music industry for quite some time. After years of grassroots efforts, Kelly finally earned recognition after her first album Unbreakable Smile debuted in June and reached No. 2 on the Billboard 200 chart.
At last year's MTV Video Music Awards, Kelly executed a show-stopping performance of her single called "Should've Been Us," according to Billboard. Since then, the buzz around her has yet to stop.
Read more:
"I do think looking back on this year, it's been the type of year where I think a lot of people have noticed me now," she told Entertainment Weekly in December. "It's cool to see people recognize the music and what's already been there this whole time. I feel like I haven't changed for anyone, which is cool."
Below are some facts to know about the pop and R&B singer:
1. Kelly has been singing since she was three years old.
This is no surprise since she comes from a musically-inclined family. Her father is a singer and bassist while her mother plays the piano and saxophone, according to CBS News.  
2. Kelly won America's Most Talented Kids in 2004 with a rendition of Christina Aguilera's "Keep On Singin' My Song," CBS reported. 
Her win earned her a deal with Geffen Records, but she didn't release any music during that time, Billboard reported. 
3. In 2010, Kelly was cut from American Idol. 
She was 16 years old and judge Simon Cowell called her voice "almost annoying," Mashable reported. "Looking back I think it was a blessing in disguise that I got cut from the show when I did because right after that was when I got more serious about songwriting, and that's actually when I started posting videos," she told Marie Claire U.K. 
4. She got her start on YouTube.
Her career blasted off when her 2012 cover of Frank Ocean's "Thinkin Bout You" went viral. It had more than 24 million views as of Tuesday. She's followed in her fellow YouTube stars Justin Bieber and Ariana Grande's footsteps by teaming up with manager Scooter Braun, Entertainment Weekly reported. Although it was Max Martin, who has worked with Grammy dominator Taylor Swift, who helped produce Unbreakable Smile, Kelly met British singer-songwriter Ed Sheeran through Braun.  
5. She released a self-recorded digital album called Handmade Songs by Tori Kelly.
The 6-track EP reached No. 9 on the Billboard Heatseekers chart.
6. Her favorite song to cover is "P.Y.T. (Pretty Young Thing)" by Michael Jackson, according to Buzzfeed.