Why Did 'Zoolander 2' Tank at the Box Office? Blame a Lack of Comedy Nostalgia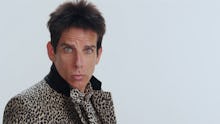 Nostalgia continues to be all the rage in Hollywood. While TV revivals and franchise reboots are proving successful, there's one particular play at fan memory that isn't working: the long-delayed sequel to a comedy hit.
Zoolander 2 joins the growing list of comedy sequel released long after their original installments that failed to recapture the same cultural impact or success. In its first weekend, the Ben Stiller film made only $16 million, falling far short of weekend winner Deadpool's $150 million. That's comparing apples to oranges, of course — but even comparing Zoolander 2 to its predecessor doesn't wear well. Zoolander made $15.5 million opening weekend in 2001. In today's numbers, that's closer to $24 million. The first movie beat the second by 50% of its opening take.
The nostalgia effect isn't working for these comedy sequels. Zoolander 2 tanked. Critics weren't kind to Dumb and Dumber follow-up Dumb and Dumber To and its box office wasn't great compared to the original. Vacation came and went. Even Anchorman 2: The Legend Continues, which received warm reviews and earned decent box office, failed to capture the quote zeitgeist.
Strangely, blockbuster sequels aren't suffering from the same box office and critical indifference. The success of Jurassic World and Star Wars: The Force Awakens can be attributed to years of buildup, solid reviews and viral marketing campaigns. Nostalgia also played a hand by reminding audiences why they should return.
Star Wars: The Force Awakens brought back key players of the originals, and the marketing for Jurassic World focused heavily on its tagline, "The park is open." Films such as Dumb and Dumber To and Zoolander 2 tried a similar approach but failed to reignite any interest.
Barber Shop: The Next Cut, Bad Santa 2 and Super Troopers 2 are set for release in 2016, significantly after their original installments. There's also My Big Fat Greek Wedding 2, which, while Andrea Martin can do no wrong, is also 14 years late. It seems impossible that it can match the recording-breaking success of the original.
In order for these kinds of sequels to succeed, their follow-ups should be immediate for them to recapture the original audience. Comedies such as The Hangover, Pitch Perfect and American Pie got it right by immediately delivering their follow-ups. Sure, their sequels weren't great, but audience returned — and, in the case of Pitch Perfect, drew even more interest.
Comedy sequels can be successful regardless of quality, but studios have to be quicker. Neighbors 2 might prove that in the summer, since it's been a mere two years since the original. But there's no built-in nostalgia hook for these films. Unfortunately, no one cares about Derek Zoolander anymore; not even Kristen Wiig's great fake commercial could save it.