How One 7-Year-Old Is Helping Hundreds of Children Affected by the Flint Water Crisis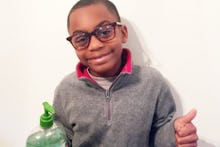 For months the residents of Flint, Michigan, were exposed to contaminated water — including as many as 8,000 children who could suffer from brain and nervous system damage for the rest of their lives, according to Vox. Devastating details about the crisis' origin and the current reality of Flint citizens continue to emerge, but their future remains uncertain. One second-grader hopes to change that: Isiah Britt of Gainesville, Virginia, started a GoFundMe campaign to help Flint elementary school children affected by the crisis, the Washington Post reported Friday.
After his parents explained the water crisis to him, 7-year-old Britt felt compelled to help, according to the Post. The family initially wanted to send bottled water to Flint children, presumably in response to the advice that all residents avoid tap water and highly publicized donations of bottled water by the likes of Cher, Mark Wahlberg, Eminem and the governor of Michigan.
Read more: Grammys' Decision Not to Honor Natalie Cole Speaks Volumes About Women of Color in Music
But when Britt and his parents called Eisenhower Elementary School in Flint, the school's secretary told them they were actually in dire need of hand sanitizer because children wouldn't wash their hands with contaminated water, according to the Washington Post. With the help of his parents, Britt determined he needed to raise $500 to donate a hand sanitizer case to each classroom in the school, which he did in two days, according to the same report. 
"Our whole thing was we wanted to support him — that mom and dad are here to guide you in the right direction," Britt's mother, Danielle, told the Washington Post. Her son and his peers have been raised in relative affluence, she added, and therefore, "might not see in their day-to-day lives people that need help ... for him to be aware that you're very blessed and privileged and it's good to put those resources toward a good cause."
While the U.S. doesn't thoroughly track lead exposure, nationally about 6% of black children have been found to have high blood lead levels compared to 2% of white children, between 2007 and 2010, according to Vox. Many have called the Flint incident an example of "environmental racism": the majority of Flint residents are black and many poor, the New York Times noted in January.
Britt is focused on the future: He has raised over $8,000, plans to continue the campaign and even got Purell to agree to match his hand sanitizer donations.
"You get a lot of adults and a lot of people to donate, and it's a blessing from everyone who has helped in Flint," Eisenhower Elementary School secretary Lisa Palermo told the Washington Post. "When you talk to a 7-year-old little boy, and he started a whole program for kids his age... it gives you a warm feeling in your heart."
h/t Washington Post