What Is Little Big Town's "Girl Crush" Really About? Here's the Meaning Behind the Music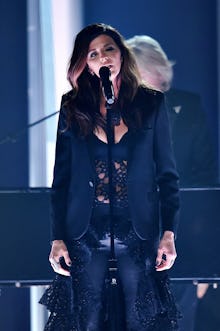 Kevin Winter/Getty Images
At the Grammy Awards on Monday night, millions of households watched Grammy-nominated country band Little Big Town perform their single "Girl Crush." The song is a haunting, yearning track — but what is it really about?
With lyrics such as, "I got a girl crush. ... I wanna taste her lips," the song reads, on one level, like a love song from one woman to another. In fact, some listeners apparently called their country music radio stations to complain about what they interpreted to be a lesbian storyline at the heart of the song, Billboard reported back in March, although those complaints were apparently far less widespread than initially believed.
Read more:
In a 2014 interview with Rolling Stone, songwriter Lori McKenna discussed the genesis of the song, saying when Little Big Town members Karen Fairchild and Kimberly Schlapman first heard it, they "flipped out."
"I knew as soon as I heard the hook of the first chorus that we had to have this song," Fairchild told Rolling Stone. "I'd never heard a jealousy song written like this. It's definitely one of the best songs I've ever heard and to get to sing it every night is a gift."
According to Fairchild, the song is a jealousy ballad — in the same vein, perhaps, of country classics like "Jolene"  — "Girl Crush" is simply about a woman who wants another woman's man so much that she basically wants to slip into her body.
The song's lyrics are addressed to an unnamed "you," presumably the man in question. Everything that the narrator wants from the other woman is only to bring her closer to the man she can't have, "I want her magic touch/ Yeah, 'cause maybe then you'd want me just as much."
That interpretation should put those country music fans who were concerned about a hidden lesbian agenda at ease, and it seems the most plausible from the lyrics. But maybe there isn't a simple, clear-cut answer as to what kind of longing the song is really about. Desire is complicated; "Girl Crush" could just as easily be a song about wanting both a man you can't have and the woman he's with. After all, heartbreak isn't easily understood.