6 Beyoncé Songs About Independence That Celebrate the Single Lady (or Man)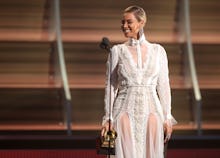 Stemming from her days with the superstar R&B group Destiny's Child, Beyoncé has always made songs that encourage independence and self-reliance amongst her fans. The "Formation" artist has won 20 Grammys over her illustrious career, winning her first pair of Grammys in 2001. Destiny's Child made waves with empowering songs like "Independent Women" and "Survivor," which encouraged women (and many young girls), to proudly stand their ground in the face of hardship.
According to Billboard, Beyoncé is the most Grammy-nominated woman of all time. After launching her solo career, Beyonce created Sasha Fierce, a stage persona Queen Bey used to separate herself as a sexy, independent performer. 
Read more: The Secret Meaning Behind Coldplay, Bruno Mars and Beyonce's Halftime Performance 
"Sasha Fierce as an alter ego was a useful tool: A mechanism Beyoncé could use to safely and publicly experiment with performances of her sexuality while keeping her ladylike integrity intact," Soraya Nadia McDonald wrote in the Washington Post. After the success of the 2008 album I Am... Sasha Fierce, Beyoncé "killed" her alter ego, but continued to create songs that seek to embolden independence. 
Single Ladies
"Single Ladies (Put a Ring on It)" was a single from Beyoncé's 3rd studio album I Am... Sasha Fierce, which focused on Queen Bey's independence in the club, to celebrate her new status as a single woman. 
Up in the club, just broke up/ I'm doing my own little thing/ Decided to dip but now you wanna trip/ Cause another brother noticed me/ I'm up on him, he up on me/ Don't pay him any attention/ Cried my tears, three good years/ Ya can't be mad at me
Instead of wallowing in sadness over the recent breakup, the singer decides to go to the club and enjoy herself, reminding women everywhere that they belong to no one. 
Diva
Also released on the 2008 album I Am... Sasha Fierce, "Diva" exuded positive messages of independence and empowerment for women. The artist makes it clear that she's making money and doesn't need any hand-outs from any men.
Na-na-na, diva is a female version of a hustla, of a hustla, of a, of a hustla/ Na-na-na, diva is a female version of a hustla, of a hustla, of a, of a hustla
According to the Recording Industry Association of America, 500,000 copies of "Diva" were sold, garnering a certified gold status. 
Run the World (Girls)
One of the most epic songs about female empowerment in recent memory, "Run the World (Girls)" was the lead single off Beyoncé's 4th studio album 4. With the chant, "Who run the world? Girls!" Beyoncé leads her group of dancers through a post-apocalyptic society run by women.
"Beyonce's 'Girls' video is an anthem for contemporary women that aren't afraid of being powerful, driven, smart and sexy," Arielle Loren wrote in Clutch. "We can hold our own in the workplace, and later in the evening, pull out our garter belts and work it for our partner."
Me, Myself and I
"Me, Myself and I,"  a song from Beyoncé's 2003 debut solo album Dangerously in Love, is a song for the ladies who've dealt with a cheating lover and had to learn from the experience. "All the ladies if you feel me, help me sing it out," Beyonce croons on the track.
"The video, and actually the song, I wrote it for the ladies because I know sometimes we go through relationships and they don't work out, and we blame the guy or we blame the other girl or we blame ourselves," Queen Bey said during MTV's Total Request Live in 2003. "And we have this inner voice that kind of leads us in the right direction. We can always depend on ourself and the song 'Me, Myself and I' and I wanted the video to reflect that. I was trying to think of something different, something fresh and new, visually, to do."
Partition
After shocking the world in 2013 with her surprise self-titled album Beyoncé, the song "Partition" is split into two parts, "Yoncé" and "Partition." Both parts of the song come together to examine how the singer asserts her sexuality while enjoying herself at the club, and during sex in the back of a limousine. "Driver, roll up the partition, please/ I don't need you seeing 'Yoncé on her knees," Queen Bey sings on "Partition." 
With "Partition," she helped bring about the "embodiment of modern feminism for a generation that has been reluctant to claim the word," according to Eliana Dockterman of Time magazine. Dockterman also acknowledged Beyoncé's "desire to please [her lover] while still projecting a fierce, independent persona."
Flawless
Featuring Nigerian author Chimamanda Ngozi Adichie's speech titled "We Should All Be Feminists," "Flawless" is the fifth single from the artist's self-titled studio album Beyoncé. 
"In 'Flawless' (a track that leaked as 'Bow Down' over the summer), Beyonce quotes from author Chimamanda Ngozi Adichie's TEDx talk 'We Should All Be Feminists,' adroitly addressing the idea that she is somehow anti-feminist for not fitting into the boxes others project onto her," Mikki Kendall wrote in the Guardian. "It's clear that like a lot of black American women, the mainstream middle class white feminist narratives with which we are so familiar aren't necessarily compatible with Beyonce's view of herself. This album makes it clear that her feminism isn't academic; isn't about waves or labels. It simply is a part of her as much as anything else in her life."
In the song, Beyoncé tells women that their own physical appearance is enough, and they are beautiful regardless of the time of day.
"I woke up like this, I woke up like this/ We flawless, ladies tell 'em/ I woke up like this, I woke up like this/ We flawless, ladies tell 'em/ Say "I look so good tonight"/ God damn, God damn/ Say "I look so good tonight"