Kanye West's "Low Lights" Lyrics Feature the Most Biblical Meanings in 'The Life of Pablo'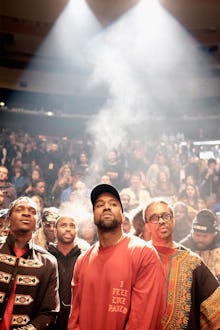 Dimitrios Kambouris/Getty Images
Kanye West added a handful of tracks to The Life Of Pablo after premiering it in Madison Square Garden, including "Low Lights," the song which comes just before "Highlights" and adds to the general gospel theme of the album. West doesn't rap or sing at any point throughout the track, though an uncredited vocalist can be heard preaching about the lord and her connection to spirituality.
A bass plays underneath the woman's vocals during her emotional dedication to God. West tweeted after his performance in New York City and unveiling of his latest album as to why he decided to add "Low Lights" to The Life Of Pablo. "I put Lowlights on my album just thinking about all the moms driving they kids to school then going to work..." Yeezy tweeted.
Read more:
The lyrics in "Low Lights" paint a descriptive picture of a woman's belief in God, and the miracles he will one day create for her in life. The message is related to the spirituality West's mother taught him, as well as the religious themes found throughout his career and in The Life Of Pablo:
"You want me to give you a testimony about my life, and how good he's been to me/ I don't know what to tell you about him/ I love him so much with all my heart/ And my soul, with every bone in my body I love him so much because he's done so much for me."
West's tweet suggests the artist is aware of the struggle working mothers face each morning as they prepare for the day and get their children ready for school. Though it may be a challenge to get up every morning and face a new day, "Low Lights" speaks to the spirituality which helps so many walk through their days with strength:
"Every morning, every day of my life/ I won't always be crying tears in the middle of the night/ And I won't always have to wake up by myself wondering how I'm gonna get through the day/ I won't always have to think about what I'm gonna do/ And how I'm gonna, how I'm gonna make it/ How I'm gonna get there, because he... he's gonna be there for me."
"Low Lights" ends with a final dedication to Jesus, with the woman on the track preaching about the lord's love being anyone's who wishes to claim it. The performance ends with an emotional farewell, as the anonymous vocalist claims she's crying tears of joy after proclaiming her love for God:
"No matter what you've been through/ Or where you've been, he's always there/ With his arms open wide accepting me for who I am and I love him so much/ I couldn't do it without him I wouldn't want to/ I'm crying now, it feels so good to be free, to be accepted for who you are and loved no matter what/ Oh lord thank you, you are the joy of my life."
Following "Low Lights" on The Life Of Pablo is "Highlights," which speaks to several of Yeezy's greatest accomplishments in recent years. The transition from the biblical references in the first track to the second suggests the artist is attributing his success to his spirituality.