Grammys' Decision Not to Honor Natalie Cole Speaks Volumes About Women of Color in Music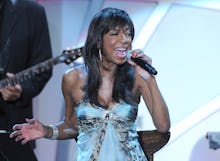 You'd barely know Natalie Cole if it were up to Monday's Grammy Awards ceremony. She was relegated to a flash of her face during the "In memoriam" segment, despite lengthy tributes to artists like Lionel Richie and David Bowie.
If you don't know Cole, know this: She was the first black person to win the Grammy for best new artist in 1976. Since then, this Grammy Queen went on to win a whopping nine Grammys, her last one being in 2009 for best traditional pop vocal album.
Cole's omission points to a larger problem regarding the Grammys and women of color. Like the Oscars, the Grammys are so white. According to Fusion, white men have been nominated for album of the year at the Grammys 49 times more than any other racial and gender group. In fact, Paul McCartney alone has won the Grammy for album of the year more times than all women of color combined. 
People on Twitter were quick to highlight the hypocrisy. 
Timolin Cole, Natalie Cole's sister, told the New York Post, "Where is the tribute to our sister?" 
"It's very bittersweet," she said. "We were hoping that there will be some sort of actual tribute fitting of her artistry and stature. She had 21 Grammy nominations and nine wins. She was such a force in the music industry, and she transcended genres ... I think she should be recognized for the impact she has had."
Given Kendrick Lamar's loss to Taylor Swift this year and Beyoncé's loss to Beck last year, maybe it's time for a #GrammysSoWhite campaign?