Taylor Swift's Music Is Made Entirely by Men, Even Though She's Pioneering in Her Industry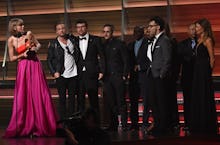 Jeff Kravitz/Getty Images
Taylor Swift made history on Monday night when she accepted the Grammy award for album of the year for the second time in her career, making her the first female musician in the history of the awards show to win the coveted trophy twice. Her rise to stardom and ability to secure some of the most prestigious accolades in the industry speaks to Swift's musical artistry and talent as a performer, but unfortunately her success isn't as easy for any other female musician in the industry to achieve. 
New York Times bestseller Janet Mock noted this observation when Swift took the stage at the 58th Grammys to pick up her award, while she was surrounded by men. "The first woman to win album of the year twice but no women producers standing behind you," Mock wrote. "Pointing out the fact that not enough women are being hired to produce music [behind the scenes] is not hating on T Swift," the author continued in another tweet. "Pls reserve your Bad Blood."
Read more: Taylor Swift's Performance Proves She Isn't Over Her Peak Yet
Some social media users quickly corrected Mock, noting fellow female musician Imogen Heap coproduced the album but wasn't able to attend the Grammys. Unfortunately, that's exactly the problem — there were only two women, in a sea of men, who built one of the most important albums of the year.
It's not rare for a win like Swift's to be record-breaking for women in music. However, with a handful of irrepressible staple performers throughout mainstream music, including Beyoncé, Rihanna, Nicki Minaj, Adele, Katy Perry and Swift, an absence of women on the radio waves might not feel like it's a pressing issue.
The numbers tell a different story. In Fusion's analysis of Top 40 music in 2015, only 3.2% of the producers for last year's hits were women. Moreover, only 13.5% of the Top 40 songwriters were women, and female artists made up only 25.8% of music's biggest performers last year.
In fact, there was only one song written entirely by women throughout all of 2015 in the Top 40, and it's not one of Swift's — the former musician gone pop queen recruits the help of multiple male writers when working on her hits. The band Little Big Town only used female writers for their critical hit in 2015, "Girl Crush," which picked up multiple awards at the 58th Grammys for best country song and best country group performance.
So, if the women are raking in the awards, why aren't there more of them in music? 
There has long been an oppressive theme in music that there can only be one critically successful female artist. Many attribute Beyoncé's career success to ditching her girl group Destiny's Child and instead going solo. When British grime rapper Lady Leshurr walked away from a major record deal with Atlantic Records, she told Mic it was because the American label wanted to use her to essentially diminish Minaj's rap career, who is often considered the current "Queen of hip-hop."
Swift herself has been accused of attacking other women in the music industry, though she repeatedly asserts her feminism and rejects other celebrities who fight with women (cough, Minaj, cough). 
When Adele worked with Sia on a collaboration that didn't make it to fruition for her latest album 25, the singer told Rolling Stone it was the first time she ever paired with a fellow female musician. 
"I actually love the dynamic of us both being in there and just fucking being bossy," Adele told Rolling Stone. "And it's all these male producers, and they're all fucking shitting themselves 'cause we're in there."
Though "Alive," the song Adele was working on with Sia, eventually became a solo hit for Sia, Adele's point speaks to a crucial and important message for the music industry. It would be astonishing to witness the incredible collaborations that could occur if women in music were more inclined to work together rather than be pitted against each other. 
Perhaps then, there would be more women climbing the ladder of success Swift has reached the top of in the music industry.
Correction: Feb. 16, 2016