Here's How the NFL Paid Roger Goodell for Mishandling Concussions and the Ray Rice Issue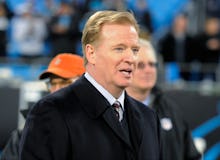 National Football League commissioner Roger Goodell walked away with $34.1 million in compensation over the course of one year as the head of the organization in 2014, ESPN reported. The sum put the NFL leader on track to make $180.5 million in his thus-far nine years as commissioner. 
Helming a league with revenues totaling roughly $11 billion, the commissioner's salary was on par with America's highest paid CEOs for the year.
Read More: The NBA's Biggest Stars Did Something Totally Unexpected This Holiday Season
Unlike those corporations, however, the NFL operated as a 501(c)(6) non-profit between 1942 and 2014, which means that in addition to Goodell's hefty compensation for the year, the organization did not pay taxes on league office revenues, though it paid taxes on other related services, according to ESPN. The league voluntarily surrendered its tax-exempt status in 2015, meaning that the 2014 compensation numbers are the last they are mandated to release publicly.
Believe it or not, Goodell made significantly less than his 2012 salary of $44 million, a sum so stupendous that even President Barack Obama weighed in, telling GQ, "I cannot believe that the commissioner of football gets paid $44 million a year."
In addition to just being exorbitant, the decision to grant such generous remuneration comes as the league has faced mounting difficulties under his leadership. Goodell himself spent much of 2014 bouncing from one scandal to the next. 
In February, Baltimore Ravens running back Ray Rice punched his then-girlfriend (now wife) Janay Palmer so hard in an Atlantic City casino elevator that she was knocked unconscious. Goodell initially only sentenced Rice to a two-game suspension, a much derided decision that was later reversed to "indefinitely" after video of the incident surfaced.
The year also saw a massive lawsuit continue to wind its way through the courts over the proliferation of chronic traumatic encephalopathy, or CTE, a condition believed to be caused by repeated head trauma that disproportionately affects football players, boxers and other high-intensity athletic professionals. A settlement finalized in 2015 authorizes up to $5 million in compensation from the NFL for any retired player who later develops CTE symptoms.
The league, however pointedly refused to take responsibility. "We don't believe this is necessarily caused by football," Goodell told NFL Total Access. 
It will, however be hard for the NFL to defer responsibility for Goodell's massive payday.