'Hamilton' "Burn" Lyrics and the Secret Meaning Behind One of the Musical's Big Ballads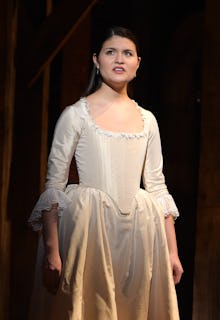 Theo Wargo/Getty Images
In a groundbreaking musical like Hamilton, there are almost too many standout songs to mention — but "Burn," which comes in the second act, not only gives the female lead Eliza, currently played on Broadway by Phillipa Soo, a chance to shine, it also has a real-life historical inspiration behind it.
"Burn" comes just after (warning: spoilers ahead) Alexander Hamilton admits his extramarital affair in a public pamphlet, hoping to salvage his legacy by coming clean about everything. But the revelation — and the publicity — shatters his wife Eliza, who at that point in the show launches into "Burn," an emotional ballad about heartbreak.
Read: The Cast of 'Hamilton' Just Showed the World Why It's a Modern Theater Masterpiece
"You published the letters she wrote you/ You told the whole world how you brought/ This girl into our bed," Eliza sings, hurt and betrayed.
But "Burn" is much more than a song about a devastated wife. It also references the layers of intertextuality at play in the show, which is based on a biography about Hamilton by Ron Chernow which, in turn, draws upon primary sources like letters written by the actual historical figures.
As Eliza laments her husband's transgressions and subsequent choice to share them with world, she sings about burning her letters to Alexander: "I'm erasing myself from the narrative/ Let future historians wonder/ How Eliza reacted when you broke her heart."
These lines are apparently show creator Lin-Manuel Miranda's interpretation of Chernow's assumption that Eliza destroyed some of her correspondence with her husband. As Chernow describes in Alexander Hamilton, " ... Eliza Hamilton was a modest, self-effacing woman who apparently destroyed her own letters and tried to expunge her presence from the history books."
"Surely Miranda is poking fun at his own lack of primary sources when it came to dramatizing this moment in the Hamiltons' marriage," wrote Michael Schulman, describing the song in the New Yorker back in August. "But in embracing the enigma the song points to the larger problem of women's history: The public records are thinner, the milieu is mostly domestic and there's more need for speculation. What was Eliza really thinking? Was burning her letters the only act of personal agency she had left?"
There's a dizzying level of self-reference here as Eliza sings about removing herself from the story of her husband's life, while at the same time existing as a character in a musical telling the story of her husband's life — and it's for these exact, complicated reasons that "Burn" is both a powerful ballad sung by a wounded character and, at the same time, a meditation on the agency of that character in telling her story as it plays out onstage, more than two centuries after the events that inspired it.
Full lyrics for "Burn" are available from Genius.