The Anti-Beyoncé Protest Could Not Get in Formation — Only 3 People Showed Up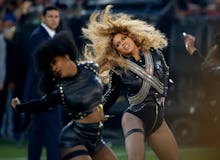 All the single ladies? More like single digits.
A protest meant to push against Beyoncé's Super Bowl performance — which some thought to be racist and anti-police — fell flat when at first only two people showed up to give the pop star a piece of their mind. 
Read more: With Two Performances, Beyoncé and Kendrick Lamar Changed Black Storytelling Forever
For reference, count the number of people other than Bey in this photo to know how many showed up.
But the protest's attendance increased by a dramatic 50% when another woman, who the Cut identified as April Bedunah from Seattle, showed up wearing a hat with the word "police" knit across the brim.
"Why am I here?" Bedunah told the Cut. "I'm here because I have many cop friends, and I respect what they do, and people need to hear that they are loved. There are bad cops who need to be thrown in jail. But there are good cops as well."
To drive it home, Taylor Swift was surrounded by more people when she won the Grammy for album of the year than showed up to the Beyoncé protest. 
There are more members of the a capella group Pentatonix than there were anti-Beyoncé protesters. And Pentatonix is definitely more diverse. 
Several media outlets, which outnumbered the protesters, tweeted depressing pictures from the rain-soaked pseudo-rally.  
Attendees at a concurrent pro-Beyoncé rally mocked the anti-Beyoncé three in person and on Twitter. CBS New York reported the few dozen Beyoncé supporters present were disappointed that the anti-Beyoncé group just could not get in formation.
What's today's lesson? Don't come for the queen.