6 D'Angelo Songs That Perfectly Describe What It Feels Like to Be in Love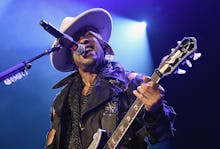 Ethan Miller/Getty Images
On Monday night, R&B singer D'Angelo won best R&B song for "Really Love" and best R&B album for Black Messiah, alongside his band, the Vanguard. 
"We should all aspire to be a Black Messiah. It's about people rising up in Ferguson and in Egypt and in Occupy Wall Street and in every place where a community has had enough and decides to make change happen," the singer wrote in a statement explaining the title of the Grammy winning album, according to the Guardian. 
The 42-year-old artist from Richmond, Virginia, was "one of the founders and leading lights of the neo-soul movement of the mid to late '90s, which aimed to bring the organic flavor of classic R&B back to the hip-hop age," according to MTV.
After pretty much owning the '90s R&B scene, here's a look at some of D'Angelo's lyrics that best describe what love is:
Read more:  2016 Grammy Winners: Full List of Winners and Recap of the Awards Show
"Brown Sugar"
Brown Sugar, the title of D'Angelo's 1995 debut album, is also the name of a track off the album. The song, however, talks about a different type of love. D'Angelo is actually singing about his love for marijuana. "D'Angelo's song 'Brown Sugar' is not an ode to a dark-skinned woman," Evelyn Diaz wrote in a BET review of the album. "Rather, he sings about his love of another muse: marijuana."
"Oh sugar when you're close to me/ You love me right down to my knees/ And whenever you let me hit it/ Sweet like the honey when it comes to me/ Skin is caramel with those cocoa eyes/ Even got a big sister by the name of Chocolate Thai." 
When D'Angelo mentions "hitting it," he is alluding to the phrase "hitting the blunt," or smoking marijuana. The artist also refers to "Chocolate Thai," a well-known marijuana strain. 
"Send It On"
Released as a single ahead of his 2000 album Voodoo, "Send It On" "is a beautiful, languid piece of lover's soul," according to BBC. The song, released shortly after the birth of D'Angelo's son, examines how love is actually an exchange of emotions.
"You can't disguise your emotions/ You know that I see in your eyes/ Your soul's in me, your soul's somethin that I feel inside/ Run, run, run, run, if I run Lord only knows how far that I and I/ Will fall behind/ Gotta find a better place, find a better space/ So that I, so my life may be the one reason why."
"Really Love"
"Really Love" won best R&B song Monday night at the Grammys, for its strong message on how love is worth the time, effort and patience with your partner. "Love is all about the art of letting go," Brandon Caldwell wrote for Billboard. "It's about understanding your own faults and edges and wanting them to be smoothed out by someone who gets them."
"I'm not an easy man, to overstand, you feel me/ But girl you're patient with me/ Doo doo wah, I'm in really love with you, I'm in really love with you."
D'Angelo understands that his lover is patient with him, and he loves her for this reason.  
"Me and Those Dreamin' Eyes of Mine"
"Me and Those Dreamin' Eyes of Mine" describes D'Angelo's passionate feelings for a woman he's been crushing on for a while. Through his "dreaming eyes," he can see his crush eventually falling in love with him as well. 
"When I first saw you baby/ I wanted to die/ Me and those dreamin' eyes of mine/ Started to cry then I'd dream/ Wishin' my fantasy/ Would soon become a reality/ Cause every time I see you baby/ All I do is sigh/ Cause you're the most precious thing baby/ That my dreamin' eyes has ever seen/ So I continue to dream/ Me and those dreamin' eyes of mine." 
This soulful track, released on D'Angelo's Brown Sugar album, climbed to 74 on the Billboard Hot 100 chart.
"When We Get By"
Released in 1995, "When We Get By" finds D'Angelo singing to his lover that they will be able to make it through any hardships as long as they have each other. 
"When we get by, we'll make it by/ When we get by with love/ I look in your eyes, I look in your eyes/ They're pretty as the skies above/ Everything, everything, everything is okay."
Everything is right in the world, as long as D'Angelo can be with his "sugar."
"Betray My Heart"
In "Betray My Heart," the artist appears to address his lover directly, stating that he will always be a fixture in his lover's life. As steady as a breeze, the lover will always be able to depend on D'Angelo.
"Like the breeze that blows in June/ I will steady keep you cool/ This I swear with all that's true/ I'll take nothing in place of you/ When you're feeling down, down, down/ You, my soul, can depend on me/ You don't ever have to fear/ That my love is not sincere."
But another review interprets the song differently. The album "finds D'Angelo speaking on self-love, an aspect that Black Messiah approaches in terms of a whole body deciding to make itself singular," Caldwell wrote for Billboard. "He's no longer about to backtrack and apprehend himself: 'You, my soul can depend on me.'"