Kanye West's "30 Hours" Lyrics Look Back on Rapper's Love Life and Struggle for Success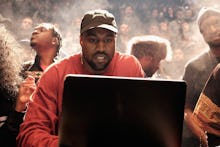 Dimitrios Kambouris/Getty Images
Kanye West premiered The Life of Pablo alongside the release of Yeezy Season 3 in New York City, giving fans a deeper look into the recent history behind the man, the myth and the legend that is Yeezy. The Chicago rapper looks back on his former flings and past life in "30 Hours," a track which compares and contrasts the life West used to lead with his current life, and what it took for him to get where he is now. 
West recounts certain performances he was once nervous to partake in like the Victoria's Secret Fashion Show, and women he was nervous to commit to as the rising hip-hop artist was thrown into the spotlight. "30 Hours" is an honest and candid look at Yeezy's love life, as well as the women who have helped shape who the rapper has become today.
Read more: Who's Pablo? The Meaning of 'The Life of Pablo,' Kanye West's Album Title
West might be alluding to Sumeke Rainey in the lyrics for "30 Hours," one of his former girlfriends who was with Yeezy as the rapper was climbing the ladder of success in the music industry. It's long been reported West promised Rainey's father he would one day marry his daughter as he laid on his deathbed. As the story goes, however, the reality of his love life has gone much differently:
"You say you never saw this coming, well you're not alone/ Million dollar renovations to a happy home/ My ex says she gave me the best years of her life/ I saw a recent picture of her, I guess she was right/ I wake up, assessin' the damages/ Checkin' Media-Take-Out/ Pictures of me drunk walkin' out with a bitch/ But it's blurry enough to get the fake out"
West describes the plight he went through in order to stay committed while trying to find success in the music industry. At one point in "30 Hours," Yeezy even describes how he would have to drive to such great lengths to see his girlfriend that he'd essentially be traveling through multiple time zones. As it would turn out, the woman Ye was spending his time with wouldn't end up being his "best of all time," as Kim Kardashian-West is properly given that title from the rapper in other songs.
"You had me drivin' far enough to switch the time zone/ You was the best of all time at the time though/ Yeah, you wasn't mine though/ But I still drove 30 hours/ But still drove 30 hours to you"
In his second verse, West describes the hard work and dedication it took for him to reach the point of Yeezus, where the rapper can now easily sell out Madison Square Garden within minutes or receive over ten thousand retweets in half a second. Yeezy compares his struggle through upward mobility to driving in the winter without the appropriate wheels:
"I remember rapping for Jay and Cam/ Young producer just trying to get his flows off/ I remember being nervous to do Victoria Secret/ Til I pictured everybody with they clothes off/ Expedition was Eddie Bauer edition/ I'm drivin' with no winter tires in December"
Listening to "30 Hours," as well as the rest of The Life of Pablo, it becomes clear just how long Yeezy has worked to get to where he is, and the various characters who have come along the way, from former flings, to Jay Z, to his wife, Kardashian-West. As West reminisces about his several plights before reaching stardom, the meaning of the words "30 Hours" changes from describing how long he was forced to drive to reach his former girlfriend, to how long he'd like to rock out with fans all at once, now that he has reached his attained success.