The VA's Suicide Hotline Sent Some Vets Through to Voicemail... Yes, Voicemail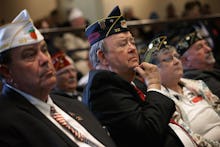 In at least 20 instances, when someone called the Veterans Affairs suicide hotline in 2014, their calls went to voicemail. 
According to the VA's healthcare inspection report released Thursday, complaints also alleged that, when someone did answer the phone, the staff weren't properly trained to meet the caller's needs. In some cases, if staff members were too busy to get to the phone, the calls would reroute to a backup volunteer center whose staff, the complainants argued, were ill-equipped to help.
(The investigation by the office of the VA's inspector general backed many of these claims, but could "not substantiate" that the volunteer center's staff were insufficiently trained.)
Read More: 5 Shocking Facts About the Way the U.S. Really Treats Its Veterans
Still, the evidence is pretty damning. The Daily Caller reported that John Daigh, the VA's assistant inspector general for health care inspections, said the crisis line's staff didn't even know a voicemail system existed, and therefore did not check it. 
The report's diagnosis? Gaps in the Veteran Crisis Line's quality assurance process, including an "insufficient number of required staff supervision reviews, inconsistent tracking and resolution of VCL quality assurance issues and a lack of collection and analysis of backup center data, including incomplete caller outcome or disposition information from backup center staff." 
The document gives the crisis line a total of seven recommendations and restates why addressing the issue is so important: Since its inception in 2007, the hotline has received more than 1.86 million calls and made 50,000 "lifesaving rescues." Since they activated text messaging and online chat features, the staff has engaged in hundreds of thousands of text conversations around the clock. 
According to data from the National Death Index, as reported by the Los Angeles Times in January 2015, the rate of suicide among veterans was 50% higher than that of their civilian counterparts, amounting to one veteran suicide a day among the study's subjects.
Unfortunately, these new findings are just the tip of the iceberg when it comes to the ways the VA — which, the Caller notes, oddly does not directly oversee the VCL — has failed veterans. Homelessness, unemployment, incarceration and mental and physical health continue to be among the foremost issues for veterans.
As far as its crisis line goes, the VA is expected to complete the recommended changes by September. 
Editor's note: For information about suicide prevention or to speak with someone confidentially, contact the National Suicide Prevention Lifeline at 1 (800) 273-8255 or the Crisis Text Line at 741-741. Both provide free, anonymous support 24 hours a day, seven days a week.