Bernie Sanders 2016: How Well do You Know Vermont's "Democratic Socialist" Senator?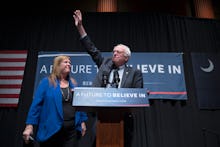 Evan Vucci/AP
Last week, Sen. Bernie Sanders made history by becoming the first Jewish candidate to win a presidential nominating contest with his success in New Hampshire. The Vermont senator's wave of success has made his presidential race against former Secretary of State Hillary Clinton a hotly contested one. 
With the financial support of thousands of supporters, Sen. Sanders raised $5.2 million after the polls closed in New Hampshire. But just how well do Sanders' supporters know the 2016 presidential candidate? The quiz below is a fun way to find out just how much you know about the Brooklyn-born Senator. 
Read more: Bernie Sanders: "My Spirituality Is That We Are All in This Together"
At the University of Wisconsin-Milwaukee debate last week, Sanders had one of his strongest performances yet, going after Clinton's connections to Wall Street and corporations, foreign policy and trade agreements. After his performance in New Hampshire and his sharper remarks during debates, the Senator has become a real threat to the Clinton campaign.
"Together what we are going to do is invest in education and jobs, not jails and incarceration," Sanders said at a Monday rally at Eastern Michigan University in Ypsilanti, Michigan, according to Fox 17. "Together, we are going to stand up for democracy, we are going to vote and have the courage to take on powerful special interests and, yes, we will transform America."