Some Donald Trump Supporters Love White Supremacy and Wish the South Won the Civil War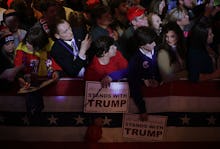 Voters love Donald Trump's "tell is like it is" attitude, and it seems his supporters have no problem speaking their minds either. Some of these opinions, however, are disconcerting. 
According to a new collection of South Carolina polls from Public Policy Polling, Trump supporters in the state have some extreme views on the Civil War and white supremacy.
Read more: Jeb Bush and Donald Trump's Feud Got Even Uglier in the South Carolina Republican Debate
Overall, 10% of Republican voters agreed with the statement that "whites are a superior race." Sixteen percent of Trump supporters agreed with the statement, the highest of the candidates by far. The lowest percentage of respondents who agreed with the statement came from Carson supporters (1%) followed by Kasich and Bush (both 4%).
PPP also reported that 38% of Trump supporters in South Carolina wish the South had won the Civil War, another 38% are not sure and only 24% are glad the North won. That number is lower than the statewide number of Republicans who were happy the North won, which is still a low 36%.
Other findings from the poll: 70% of Trump's South Carolinian supporters wish the Confederate battle flag still flew above their state capital, and 80% support a ban on Muslims entering the United States. 
Trump's performance in Saturday's debate hasn't lost him any ground in South Carolina: He's still in the lead with 35% of the vote. South Carolina Republicans voters will choose their Republican nominee on Saturday.
Get the five stories that will challenge you to rethink the world by signing up for MicCheck Daily.