Here's What Facebook Knows About You — And How You Can Limit Its Nosiness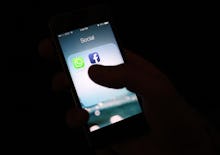 Karly Domb Sadof/AP
Chances are, you're on it almost every day, and you know a lot of people who are on it themselves. It's one of the most popular platforms to create a digital identity, and at bare minimum, a place to connect with a large audience of family, peers and friends. 
Yet many users don't know the lengths of Facebook's reach — specifically, with tracking your activity on the site to find the right advertisers for a user. While opting out of Facebook and eliminating an account is a quick fix to avoid this, it's also highly inconvenient. Instead, there are ways you can adjust which ads you are able to see, and the extent to which the social media site is able to use the internet to serve advertisers. 
Read more: Facebook Says It's Finally Doing Something About Hate Speech on Its Platform
The basics: It should be obvious, but it's worth repeating. Whatever you do on Facebook with your profile — and broadly, what you do directly — the platform will know about. The best examples of this being when a user inputs their age, marital status, where they live, where they work and educational background. 
Generally, though, these are very basic in their reach, and things you want other people to know about you — because you've put it there yourself. It is, however, a small extension of a larger method in which Facebook can match you with the right advertisements.
The activity: The second, and more intricate, element is what you "like" on Facebook. According to an online tool created by the University of Cambridge's Psychometrics Center, a user's Facebook "likes" can help piece together a rough outline of someone's personality. The tool, called Apply Magic Sauce, will guess the likes of your gender, sexual orientation and political views. 
Using the tool on my own Facebook, Apply Magic Sauce predicted that I am 26 (actually 23). Additionally, it found me to be more traditional and conservative than most (I am a conservative Democrat.) and more "laid back and relaxed" than most of the Facebook population. While it certainly wasn't wholly accurate, it took enough from my "likes" to give a broad personality profile that was relatively agreeable.
While it is a tool created by a university, rather than Facebook itself, it demonstrates how "likes" alone can somewhat accurately profile a user. The tool can be used for free for personal use (under the "for you" section), and be can be accessed here.
The worldwide internet: However, Facebook gets a lot of information — and the best stuff — from its users by looking at what someone searches for outside of the social media platform. According to the site, it does read cookies and use the information to serve up personalized ads both on Facebook and on other websites. 
Put simply, Facebook will follow your interests. If you're a fan of HBO's Game of Thrones, and you have searched for products around the show on other sites on the same internet browser, chances are you will find ads related to the series more frequently than another user.
However, Facebook also notes that you can turn off this setting, but you will still receive ads — just ones that may be less relevant. "If you turn off online interest-based ads you'll still see the same number of ads, but they may be less relevant to you," Facebook wrote. "You may also see ads based on things you do on Facebook." 
How you can stop it: According to Fox News, you can opt out of Facebook, in addition to other companies, tracking your web activity by using Digital Advertising Alliance opt-out tool. The setting is also now available to switch on Facebook with a link to the DAA site, further making such a transition easy to go through. 
"To stop seeing online interest-based ads from all participating companies on any website, device or app visit the Digital Advertising Alliance," Facebook says when you choose the "off" option for online interest-based ads. However, you will still see advertisements.
"This won't stop Facebook from showing you targeted ads based on information it collects about you," Kim Komanda wrote for Fox News. "But it won't get any of your information from its partners, and it shouldn't send any of your information to advertisers."
That said, you can use the DAA opt-out tool in North America — and lessen the burden of what Facebook can do with your profile information — here. It is also available for Canadian and European users, here and here, respectively.