We Turned Beyoncé Lyrics Into Inspirational Memes. You're Welcome.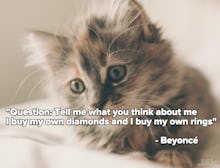 Mic/Unsplash
Queen Beyoncé is like the best motivational speaker in the world — she's a constant fountain of wisdom and knowledge and all who live by her credo are destined for greatness. Beyoncé is a role model for so many reasons: She's a feminist, a cheerleader for black identities, a 20-time Grammy winner and a fierce mom to Blue Ivy.
With that in mind, we decided to take some of Beyoncé's wisest lyrics and re-create them as inspirational memes, to be hung proudly in the offices of HR professionals and guidance counselors around the world. For all the Bey lovers out there, these are for you.
Read more: With Two Performances, Beyoncé and Kendrick Lamar Changed Black Storytelling Forever