New Poll Shows Bernie Sanders Closing the Gap With Hillary Clinton in Nevada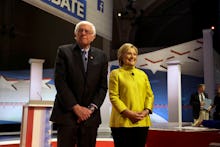 Nevada was supposed to be part of Hillary Clinton's much-vaunted firewall strategy, with a more diverse Democratic electorate to lift her presidential campaign after her near-loss in Iowa and her landslide defeat to Bernie Sanders in New Hampshire.
But a new poll shows that with just three days until the Silver State's Democratic caucuses, Clinton and Sanders are locked in a virtual tie. A CNN/ORC survey out Wednesday shows Clinton with 48% support, while Sanders claims 47%. That compares with a 50% to 34% Clinton lead when CNN/ORC surveyed the state in October.
Read more: Bernie Sanders Raised $4,815 a Minute in the 18 Hours After New Hampshire
Behind the numbers: Dovetailing with the results in Iowa and New Hampshire, the poll finds a wide age gap between the two candidates' supporters. Likely caucusgoers under the age of 55 support Sanders by a 56% to 38% margin, while those older than 55 break 69% to 26% for Clinton. 
The survey shows Clinton boasts a clear advantage over Sanders on handling several key issues, including health care (55% to 39%), race relations (58% to 38%), immigration (56% to 37%) and foreign policy (68% to 28%). 
But 42% of likely caucusgoers identify the economy as their top issue, and the candidates are more closely matched there. Mirroring the overall horse race numbers, 48% said Clinton would be the best economic steward, while 47% picked Sanders. The Vermont senator, who has made tackling income inequality the centerpiece of his campaign, held a slight 50% to 47% edge over Clinton on the question of which candidate would do the most to aid the middle class.
A Berning firewall? For Clinton, a loss in Saturday's caucuses would deal a demoralizing setback to the notion that she can count on more demographically diverse states to arrest Sanders' momentum coming out of the more homogenous Iowa and New Hampshire.
Though he's made some inroads since launching his campaign last year, Sanders has lagged far behind Clinton in support among nonwhite voters. Nevada, then, presented his campaign with a challenge. In 2008, whites made up only 65% of its Democratic caucusgoers, while blacks accounted for 15% and Hispanics and Latinos another 15%. By contrast, whites comprised 93% of the Democratic electorate in last week's New Hampshire primary, according to exit polling.
Seeking to tamp down expectations of a roaring comeback in Nevada, Clinton spokesman Brian Fallon last week dismissed the state as "80% white voters," suggesting it was hardly unlike Iowa and New Hampshire.
Asked by Nevada political analyst Jon Ralston to explain those remarks, Clinton distanced herself from them.
"That's not me. I have a great campaign, they work hard. But I love Nevada and Nevada was put into this early process because of diversity," she said, referring to Sen. Harry Reid's bid to give Nevada an early slot because of its multiethnic population.
Nonwhite voters remain a Clinton stronghold, but there are signs that amid Sanders' success in the early contests, her advantage is no longer what it once was. In a national Quinnipiac University survey released on Wednesday, Clinton led Sanders 55% to 30% among nonwhites, far outpacing her 44% to 42% edge overall. But just two months ago, Clinton led Sanders 66% to 17% among nonwhites, according to the ABC News/Washington Post poll.