This Mom's Heartbreaking Photo Should Settle the Vaccine "Debate" for Good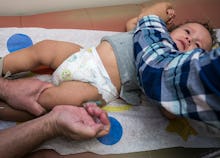 The photo you're about to see is graphic. But if this doesn't convince you to vaccinate your kids, nothing will.
British toddler Faye Burdett died on Sunday after battling meningitis for 11 days, the Telegraph reported. Now, Faye's parents are sharing photos of their daughter, just before her death, to raise awareness about the importance of vaccines.
The U.K.'s National Health Service has provided meningitis B vaccines to babies in England and Scotland since September, according to the Telegraph. Though celebrated by medical experts at the time, the new policy left out older children, like Faye. If parents want their older children vaccinated against meningitis B, they have to pay privately — not to mention contend with what GlaxoSmithKline called "supply constraints" of the meningitis B vaccine Bexsero.
Jenny Burdett, Faye's mother, has asked people to sign an online petition calling on the U.K. government to provide meningitis B vaccines to all children, up to age 11. It has already garnered more than 280,000 signatures. 
To show just how important it is to prevent kids from getting meningitis, Burdett also shared a heart-wrenching photo of daughter Faye in a hospital bed, shortly before her Feb. 14 death. 
Faye was first taken to the emergency room with a rash on her forehead, according to a story posted by the charity Meningitis Now. Her heart stopped in the ambulance while being transferred to a children's hospital, but doctors were able to revive and stabilize her. 
Things seemed to be looking better, but eventually, Faye's meningitis and sepsis took a turn for the worse, Burdett told Meningitis Now. They had to make a decision: Did they want Faye to undergo massive surgery to remove a full arm and leg?
"She was getting tired, her little body consumed by meningitis and sepsis (blood poisoning)," Burdett said, according to Meningitis Now. "We had to make the decision, a massive operation and she may die or we let her go peacefully on her own accord."
"We decided the latter and then watched our little girl slip away," she continued. 
In a statement, Meningitis Now CEO Sue Davie said that although the NHS' recent meningitis B program "was a momentous achievement, saving thousands of lives, there are still so many, like Faye, left unprotected."
"Moving forward, we continue to campaign to see the men[ingitis] B vaccine rolled out, particularly to at-risk groups to ensure a future where no one in the U.K. loses their life to meningitis," Davie said.
In the U.S., the CDC recommends folks ages 16 through 23 talk with their doctors about getting the meningitis B vaccine — preferably between the ages of 16 and 18. If you don't have insurance, the United States' federally funded Vaccines for Children program will provide the vaccine free of charge — but only if you're 16 to 18 years old. If you're "at increased risk," you can get the vaccine for free at ages 10 through 18.
A lack of federally funded programs isn't the only reason kids are at risk of dying from vaccine-preventable diseases. There are also the so-called "anti-vaxxers" — people who refuse to vaccinate their children, due to health concerns. Among their beliefs is the notion that the measles, mumps and rubella vaccine leads to autism — a link the CDC has blatantly stated does not exist.
The anti-vaccine movement has been blamed for a number of recent vaccine-preventable disease outbreaks, including the United States' largest measles outbreak in 20 years, according to Forbes, and a whooping cough outbreak in 2012 — the largest in 70 years.
The tragic case of Faye Burdett is emblematic of a U.K.-centric problem. But it's also a symbol of what can happen, more broadly, when kids aren't protected against vaccine-preventable diseases. 
Get the five stories that will challenge you to rethink the world by signing up for MicCheck Daily.