After Appearing in Beyoncé's "Formation," Big Freedia's Show Was Canceled for "Gyrating"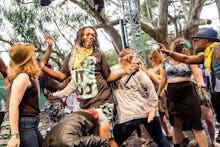 Is this any way to treat a queen? Queen of Bounce Big Freedia may get a lot of love in her hometown of New Orleans, but Mississippi officials put a stop to a show she was set to perform on Friday. 
According to New Orleans' Times-Picayune, the owner of the Dollar Box Showroom in Hattiesburg, Mississippi, received a phone call from the state's Alcohol Beverage Control about two weeks prior to Big Freedia's scheduled performance. The show was to happen almost a week after Freedia's voice was featured in the video for Beyoncé's woke anthem "Formation." 
Ben Shemper, owner of the Dollar Box, said the person calling from the ABC said the performance would violate Mississippi codes, the Times-Picayune reported. Apparently, Big Freedia — she popularized twerking while Miley Cyrus was still Hannah Montana — and her dancing style were too sexual. 
"The word gyrating was in there," Shemper told the Times-Picayune. "He made it sound like it was some kind of strip show or whatever."
Shemper canceled the show with an announcement on his venue's Facebook page.
Rusty Hanna, chief of enforcement for the Mississippi Alcohol Beverage Control, told the Times-Picayune that his office did not cancel the show, but rather may have warned about regulations regarding nudity and sexual content. "If they canceled, it was their own decision," he said.
Since the cancellation, Big Freedia's lawyers have contacted Hanna, and he watched some of Freedia's videos, which Hanna said didn't violate their regulations. This was in contrast to what an official had previously told Freedia's co-manager Reid Martin, according to the Times-Picayune: that the YouTube videos showed things "he believed were illegal in a place that serves alcohol in Mississippi." 
While speaking at the New Orleans Public Library on Saturday, Freedia addressed the controversy.
"No, this has never happened before," she said, according to a Times-Picayune video of the event. "I'm not sure who's pulling this cord or what's going on up there." 
"I'm not sure if the Beyoncé thing had something to be related to it," she continued, "but somebody's pulling that cord."
Freedia maintained that her style of dance is not sexual and that it is for everybody to express themselves. 
"Bounce music is for everybody," she said. "We have different levels of it, from zero to 99. I've seen people twerk."
Beyoncé's "Formation" video has caused controversy for what some say are anti-police messages. Critics also lambasted her Super Bowl performance, which featured dancers dressed up like Black Panthers. However, when a purported anti-Beyoncé protest was scheduled for Tuesday morning in New York City, only three people showed up, and a larger pro-Beyoncé contingency took over. 
Mic's call to the Mississippi Alcohol Beverage Control was not immediately returned.