Amputee Model Duo Rebekah Marine and Gianna Schiavone Walk in Fashion Week Together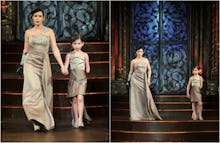 FTL Moda may not be a household name like Gucci or Louis Vuitton. But the organization has become a Fashion Week mainstay for bringing models with disabilities to the runway.
On Monday, Rebekah Marine and Gianna Schiavone walked hand in hand down the catwalk at New York Fashion Week wearing designs by Josefa Da Silva. Both are congenital amputees — 6-year-old Schiavone was making her runway debut, while 29-year-old Marine is already a runway veteran, having walked in past FTL Moda shows. 
The show also included Shaholly Ayers, who was born sans her right arm below the elbow and has modeled in past FTL Moda shows. FTL Moda cast Marine, Ayers and Schiavone as part of its effort to use runway shows to shine a light on those with disabilities, working this season in partnership with a group called Global Disability Inclusion.
Also on the runway was Fausto Di Pino, a professional Italian model who has returned to the runway after undergoing treatment for cancer, and teen Madeline Stuart, who's made a name for herself as one of the only people with Down syndrome to ever walk a Fashion Week runway.
All five modeled clothing by several designers, including Mr. De Curtis, Lulu et Gigi, Fumo Bespoke and Josefa Da Silva.
The show is easily one of the most uplifting on New York Fashion Week's busy schedule, for the undeniably positive vibes it sends. 
Marine has embraced her reputation as the "Bionic Model," posing for photo shoots and telling Time, "I think it's so cool to be at the front of the line of this change, and being able to open the door and inspire others to open their minds to different models." 
Ayers got her own chance at glam on a billboard displayed in New York City's Times Square, as Global Disability Inclusion's brand ambassador. 
As the Huffington Post U.K. notes, Marine started modeling four years ago after she got her prosthesis. But as Ayers and rookie model Schiavone show, you don't even need a prosthetic to model. In fact, there isn't one required "model body" at all — even if not every fashion show sends that message.