Is Tori Kelly on Tour? Here's When 2016 Grammy Nominee Is Hitting the Road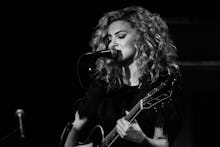 Jim Pollock/Getty Images
American singer-songwriter and rising star Tori Kelly delivered a lush performance during Monday night's Grammy Awards show, and the stellar showing perhaps sold some viewers on her aptitude as a performer. The live number was good enough that it may even have cemented Kelly's reputation as a rising star, and there's good news for those who agree — on Feb. 26, the 23-year-old musician will kick off an exhaustive tour in the U.K. and North America. In those regions, chances abound to catch the crooner live.
The upcoming tour follows a year and a half's worth of highly attended and sold-out shows, according to the artist's website, including performances where Kelly supported big-name artists like Ed Sheeran and Sam Smith. And according to Kelly, live shows are what it's all about. "I'm excited to get out and play for people," she said in a statement on her website. "That's always the dream."
Read more: Meet Tori Kelly, the Talent Show Kid Turned YouTube Star Turned Grammy Nominee
Kelly will begin her tour with a show at the London O2 Academy Brixton and continue with three more U.K. shows — in Birmingham, England; Manchester, England; and Glasgow, Scotland. After a bit of a breather, she will cross international waters and all of North America to play a show at Humphrey's in San Diego on April 5. Kelly will continue her U.S. trek with a show scheduled in Arizona and many dates across the South. 
The artist will travel north up the East Coast hitting the Electric Factory in Philadelphia, Beacon Theatre in New York and the House of Blues in Boston, to name a few, before taking her act across the northern border to Canada. After a series of shows through the Midwest and up and down the West Coast, Kelly will conclude her months-long tour with a set at the Greek Theatre in Los Angeles on May 21. For a full list of tour dates head here.
Kelly, who was born Victoria Loren Kelly, is from Temecula, California, according to her biography. At the age of 14, she began posting videos of herself in action to YouTube, and despite being eliminated from a cycle of American Idol at the age of 16, she has yet to slow the momentum of her path to stardom. Perhaps as proof of that, today, Kelly has north of one million subscribers on YouTube. 
And though the award for best new artist at this year's Grammy Awards show ultimately went to Meghan Trainor, the fact that Kelly was nominated for the prestigious award speaks volumes about her meteoric rise to success. 
The artist has released just one LP to date, 2015's Unbreakable Smile, and her upcoming jaunt around the U.K. and North America, which is titled the Unbreakable Tour, will mark her fourth official tour, following 2012's Fill a Heart Tour, 2013's Foreword Tour and 2015's Where I Belong Tour.