Mom Whose Daughter Was Killed by Police in Virginia Beach Posts Video Pleading for Justice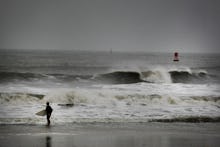 In a heartbreaking video posted to her Facebook page Feb. 10, Gina Best, whose 27-year-old daughter India Kager was killed by Virginia Beach, Virginia, police officers in September, shared her grief with the public and called for justice for her family.
"I want the world to know what a mother goes through when your child is stolen and executed for no reason," she said at the beginning of the recording, which has been shared more than 55,000 times. "They executed my baby."
On Sept. 5, members of a Virginia Beach special operations police unit opened fire on a vehicle with Kager, 35-year-old Angelo Perry and their 4-month-old son, Roman, while it was parked in a 7-Eleven parking lot.
According to the Washington Post, Perry was a person of interest in a homicide, and was being surveilled on suspicion that he was planning to commit another act of violence — the details of which the police have not disclosed.
The officers reportedly approached the vehicle after it was parked. Perry saw them and opened fire with a 9 mm handgun, at which point the officers fired 30 rounds back into the vehicle. Both Perry and Kager, who was unarmed, were killed. Roman was not hurt in the shooting.
Four of the officers involved were placed on administrative leave shortly after, all of whom are white. Kager and Perry were both black, according to the Post.
No evidence has been made public linking Kager to any crime. A former Navy service member, she was living with her father and grandfather — both retired Washington, D.C., police officers — in College Park, Maryland, at the time of her death, and working as a letter carrier for the U.S. post office.
Now Best, a mortgage broker from Columbia, Maryland, is tasked with raising Kager's two sons. "I can't even tell you how bad this hurts," she said in the video. "There are no words to articulate this."
While the pain she expresses in the video is devastating to watch, it is not unique — over the past three years, several mothers of young black people killed by police or vigilante violence have been among the most outspoken advocates on behalf of their slain children, including Sybrina Fulton, mother of Trayvon Martin, and Samaria Rice, mother of Tamir Rice.
According to the Guardian, police in the United States killed 1,140 people in 2015.
h/t the Root