Your Dream of Riding a Ferris Wheel in an Old Romanian Salt Mine Is Now a Reality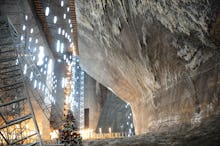 Are you seeking thrills and chills 367 feet underground? Do you need a facial? Have we got the place for you!
According to Co.Design, a theme park now occupies the ancient salt mine Salina Turda in Romania. The massive underground space, which dates back as many as 2,000 years, opened to the public in 1992, when it was first repurposed as the unconventional amusement park. Since then, the elevators that once transported table salt in the Middle Ages have carried tourists to the underground oasis. 
Read More: Banksy's Theme Park, "Dismaland," Is the Stuff of Nightmares
Today, brazen visitors can row paddleboats on the subterranean lake, unwind at the park's spa, bowl or play mini golf or ping-pong. The centerpiece of Salina Turda is the ferris wheel, offering panoramic views of the mine's stalagmites and a reminder that you're hundreds of feet down inside the earth. 
The space has quite a history. World War II officially marked the end of its salt mining days when it was transformed into a bomb shelter and a cheese storage facility (as former salt mines are wont to be). 
"The place is very dark, but for an subterranean space the air quality is really quite good, it feels quite fresh inside," photographer Rich Seymour, who captured the otherworldliness of the space when he was working through a grant from the Romanian Cultural Institute, told Co.Design.
"Salina Turda was one of the most difficult spaces I've ever had to photograph purely because of the fact that it is so dark inside," he said, and that at times the experience felt "genuinely quiet risky." 
We can't imagine why.