New #DenimHair Trend Robs Us of the Lazy Beauty of Real Jeans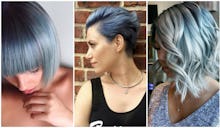 For the laziest among us, jeans are a godsend. Slip them on with a T-shirt and you're cute and casual. Slip them on with a black turtleneck and you're sophisticated and casual. You can wear the same pair basically every day and get away with it. Hey, you don't even have to wash them.
Denim, in short, is supposed to be easy — but now it's joined forces with a hair dye trend, taking the real joy of denim (laziness) away from us. May we introduce to you #DenimHair:
For some, it's a little bit acid wash and others, a little bit indigo. But really, "denim hair" is just one more entry into the ever-growing canon of much-hyped hair dye trends, because, let's be real, this is blue.
You know, just like pumpkin spice latte hair was just a fun new way of saying "red" and chocolate chip cookie hair is basically blond with some brown lowlights, aka what countless women have going on without ever calling it a food.
But at least with #DenimHair, we get to channel an element of nostalgia. You could get a shade of blue that reminds you of your favorite pair of Levi's or mom jeans. Instead of bringing a picture of Kate Middleton's spectacular mane to the salon, maybe soon you'll be bringing a pair of blue jeans. Just think: a head-to-toe Canadian tuxedo is now a mere salon trip away. 
Just imagine how much cooler Britney Spears and Justin Timberlake would have looked with matching blue hair to match their full-bodied denim. (Or even when Katy Perry and Riff Raff paid homage.)
Of course, just like their outfits, dyeing your hair the color of denim takes the easy laziness out of denim and turns it into a high-maintenance spectacle. But hey, isn't that what getting the perfect Instagram photo is all about?
Read more: The No-Bullshit Girl's Guide to All Those Ubiquitous "Hair Trends" of 2015