How Did Bob Marley Die? Behind the Conspiracy Theories Surrounding Reggae Singer's Death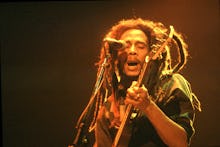 Paul Natkin/Getty Images
Few musical artists have left a mark as prominent as Robert Nesta Marley has, better known as Bob Marley. The iconic reggae singer is remembered as a political peace activist for his troubled Jamaica and as a celebrator of marijuana, as much as he is remembered for his legendary anthems of global harmony and brotherhood. 
Due to his legendary status, Marley's death hasn't gone without conspiracy theories. Some call his death an assassination by the CIA who allegedly felt that his songs were radical preaching, High Times reported.
At Cedars of Lebanon Hospital in Miami, Marley passed at the age of 36 on May 11th, 1981, the New York Daily News obituary said. It had been years of him being diagnosed with cancer throughout his body, Rolling Stone reported. It was a long and hard fought battle by Marley, who never stopped recording nor performing while diagnosed. 
Read more: 34 Years After His Death, We Need Bob Marley Now More Than Ever
The first sign of cancer came in 1975 when Marley smashed his right toe while playing soccer, Rolling Stone reported. Marley continued to be active on the toe, despite doctor's orders. Two years later, the toe sustained a worsened injury, and wouldn't heal. A London doctor told Marley that without amputation, it could turn cancerous. "Rasta no abide amputation," he said, according to Rolling Stone.
Instead he focused on music, releasing legendary albums like Exodus in 1977 and Uprising in 1980. Both albums focused on love, happiness and hope through his most famous songs like "One Love/People Get Ready."
By 1980, Marley's inspirational songs had infiltrated the rest of the world and he went on an extensive tour. The exhaustion caught up to a never fully recovered Marley and he almost passed out while onstage at Madison Square Garden in New York and while running in Central Park. According to the doctor, the blackout was caused from a brain tumor. Later tests found cancer in the lungs, liver and brain, giving him ten weeks to live, Rolling Stone reported. Still, Marley finished the tour.
He traveled to Miami, Mexico and Germany for cancer treatment, surpassing his life estimate. In Germany, Marley was under the care of Dr. Josef Issels, known for his complementary cancer therapy, which focused on strengthening the immune system to rid the body of cancer, according to Cancer Research UK. His methods are unsupported by legitimate data and are not recommended as a replacement for conventional treatment.
By the end of his lifetime, Marley was frail and gaunt, Rolling Stone reported. After his death in Miami, Marley's body was flown to Jamaica and a state funeral where over 100,000 would pay respects to his open casket, according to the Guardian.