Killer Mike Is Taking Some Heat for a Quote He Used to Criticize Hillary Clinton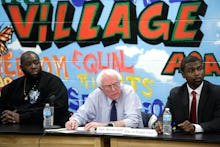 For a few months now, the rapper Killer Mike has been a vocal advocate of Sen. Bernie Sanders. Killer Mike has been on hand to introduce Sanders at events and the two had a sit-down over the country's various problems in an Atlanta barbershop. 
The question of gender is woven into the very thread of this presidential campaign — Hillary Clinton is the closest any woman has gotten to the Oval Office. However, after quoting a fellow activist at a Morehouse College event on Tuesday, some have expressed dissatisfaction with what they feel are sexist comments from Killer Mike and the Sanders campaign. 
His comments, in context, were: 
"When people tell us, 'Hold on, wait a while.' And that's what the other Democrat is telling you. 'Hold on, Black Lives Matter. Just wait a while.' 'Hold on, young people in this country, just wait a while.' And then she — she get good, she have your own mama come to you. Your own mama sit you down and say, 'Well, you're a woman.' But I talked to Jane Elliott a few weeks ago, and Jane said, 'Michael, a uterus doesn't qualify you to be president of the United States.' You have to be — you have to have policy that's reflective of social justice. Paying women a fair wage is social justice. Making sure that minorities have jobs is social justice. Ending a bullshit drug war is social justice. Making sure our children can go to college is social justice."
Jane Elliott is an anti-racist, feminist activist whose several appearances on the Oprah Winfrey Show have recently resurfaced and gone viral. Though Killer Mike was quoting another activist, a woman, many people felt the sentiment behind the comment was still sexist and downplayed Clinton's record as a U.S. senator, former secretary of state and boundary-breaking lawyer. 
Killer Mike responded to the controversy on Twitter with five letters: "Lmfao." 
You can watch the full event below, or just watch Killer Mike's comments at about 33 minutes in. 
Update: Elliot responded to the criticisms towards Killer Mike. 
Feb. 17, 2016, 12:17 p.m. Eastern: This post has been updated.