This Photo of a Same-Sex Kiss Between Military Newlyweds Is Melting the Internet's Heart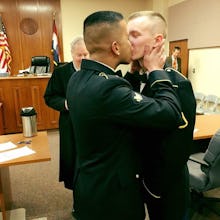 For many, the phrase "military wedding" likely conjures up an old-fashioned vision of a dainty bride in a big white gown, dangling off the arm of her sturdy, uniform-clad groom. But a viral photo of a same-sex embrace proves that the image of the traditional military couple is getting something of a makeover. 
The snapshot was taken of soldiers Shane Adriano and Cody Resz moments after they were wed in a Springfield, Missouri courthouse, USA Today reports.
After being posted to Facebook on Feb. 11 by the gay military organization the American Military Partner Association, it racked up thousands of likes and shares.
Many Facebook users were quick to express their support for the newlyweds, writing things like "if I could say congrats a million times I would" and "many blessings to you both" in the photo's comments sections.
"It's a great feeling to find the one that makes you happy," newly married Resz responded in a comment of his own. "Thank you everyone for the kind words!" (Mic has reached out to both grooms for further comment and will update if we hear back.)
"Incredible the distance we've traveled. At one time, this would have got these guys dishonorable discharge and a jail sentence," one commenter wrote, referring to the remarkable progress the military has made after its long history of anti-gay discrimination. Casual homophobia has been known to run rampant in army barracks, and up until 2011, gays weren't even allowed to openly serve in the military — let alone marry each other while in uniform.
So it's no surprise that same-sex kisses in such a context tend to garner such widespread celebration and praise, as this viral pic of U.S. Navy lesbians engaging in a dockside smooch did a few years ago. Back in 2012, a photo of gay Marine Brandon Morgan embracing his BF after returning home from a tour of duty went viral, capturing the hearts of more than 43,000 Facebook users.
Here's to more gay military couples publicly declaring their love in the future.
h/t USA Today