It Took Me One Week of Swiping to Discover the Sneaky Genius of the Kardashian-Jenner Apps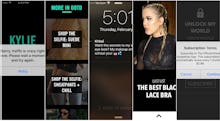 $32 million per year.
That's how much the Kardashian and Jenner sisters' apps could end up raking in, if downloads continue as briskly as they began. Powered by monthly — yes, monthly — subscription fees, the five apps are poised to bring in serious dough: A September estimate put it at $32 million annually for Kendall, Kylie, Kim and Khloé's apps alone. (Kourtney's didn't debut until December.)
Read more: Kendall Jenner Launches App Featuring Photos From Fashion Week — for a Price
For those who cannot fathom paying a monthly fee for an app or who don't understand the appeal of the family in the first place, it's difficult to understand the point of these apps. It's not like we're at a loss for Kardashian kontent; anyone with a television or an Instagram account can already get an intimate look at the family for free.
So who the hell is paying for these — and what are they getting for their money?
I spent a week trying to find out. In the process, it became clear to me what the apps are all about: selling stuff.
Teen girls ponying up: Though the first four apps to debut collectively had over 2 million downloads in their first week on the market, I couldn't find anyone in my social circle who uses them. Even my 15-year-old sister didn't have any friends who use them.
Much commentary about the apps on Twitter boils down to users who hit "download" out of sheer curiosity or the tempting "free" label, only to be incensed that they were prompted to pay $2.99 per month to unlock any actual stuff on the app.
Downloads (especially ones immediately accompanied by anger and regret) don't equate with active users. But one download statistic in particular helps explain the big appeal of the apps: Fortune reported Kylie's app was downloaded 1.75 million times during its first week in the App Store, while Khloé's had 498,000 and Kim's had 477,000 downloads.
"I know my fans are my age or younger than me," 18-year-old Kylie acknowledged in an interview with Time. That teen enthusiasm gives you a sense of what makes these apps so appealing: the ability peek into every nook and cranny of a fabulous life and learn how to get it yourself.
That's something Kylie's keenly aware of, as she told Time:
Kim's older, she has a different fanbase, and she's also — the difference between our apps is hers is very perfect. It's simple, everything is black and white. Mine is more, I invite the cameras over and say, 'Oh, hey, let's just do this.' We do makeup tutorials and I'm laughing and talking. I know my fans are my age or younger than me, so, I just like to show my personality and show my fans my home and my dogs. I get really personal. I'm on Snapchat, and I'm just like them at the end of the day. Kim's more private. She has kids. It's just different.
As a 20-something, I'm not the teen girl the app is intended for. But I gave Kylie's app a whirl, along with the other four, for a week.
One big, glossy advertisement: Just as each sister has developed her own style, each app reflects the sisters' "unique" personalities. Khloé's focuses on fitness, Kylie's on makeup and hair, Kendall's on fashion and modeling and Kourtney's on, as she put it, interior design and being a mom. Kim's is mostly all about Kim, Kanye West and their daughter North.
But one thing is common across all the Kardashian and Jenner apps: They are all trying to sell you stuff.
Sure, each app is peppered with content that isn't marketing anything in particular, like Kendall's "Why Horses Will Always Be Part of My Life" and Khloé's "Quotes of the Day." But the majority of the content — which, to reiterate, people are paying to view — feels like one enormous native ad.
With stories like "Leather Vibes" and "My Secret to Fuller Lips" or recurring features like "Lust List," the majority of each app is essentially instructive listicles of how to mimic an outfit or participate in a new trend, filled with links to the e-commerce pages to purchase the recommended products.
Products find their way into the least obvious places. In her behind-the-scenes post about West's fashion show, Khloé ends by providing some links to help you buy items to copy her look from the show. 
You can also "shop" looks worn by the women in paparazzi photos, such as the bra that emerged by the light of 'razzi flashbulbs when Khloé went out to dinner in January.
At the end of a recipe for chocolate chip banana bread, Kourtney shares links to help you "shop the recipe" including a link to an Amazon page for cinnamon sticks, if you're so inclined. Same goes with heart cookies, which obviously require their own special cookie cutters.
Hundreds of thousands of people seem to be paying for these apps each month, and presumably consume the content they provide. It seems absurd that people would pay a fee simply to view what is, at its core, advertising. (None of the Kardashians or Jenners have gone on the record explicitly explaining how, if at all, product purchases made via the app drive revenue back to the app.)
The ultimate lifestyle magazines... Before you write off the Kardashian-Jenner apps' subscribers as foolish, it might be prudent to compare the apps to magazines. In fact, I may have spent the week swiping on the magazines of the future.
Consider it: Users pay a small monthly subscription fee. Each sister's app is branded, just as different magazines focus on either fashion, celebrities, fitness, parenting, etc. There are paparazzi shots mixed with glamorous editorials. There are "get the look" features, interviews, trend alerts, recipes and advice. The fact that each app feels like a hodgepodge of ads is little different from actual magazines, which for years have seamlessly — and deceptively — been blending real ads with articles littered with product recommendations that might as well be ads.
Lifestyle magazines exists essentially to tell their readers what's hot, what's not, what the latest trends are, what products are "editor-approved" and who the latest "it-girl" is. The Kardashian-Jenner apps do just about the same thing, with one key difference: the premise that Kim, Khloé, Kylie, Kendall and Kourtney are always the it-girls, playing dual roles as both cover models and trustworthy editors.
...made for the Snapchat era: Perhaps most importantly, young people look to these apps to tell them what's cool. In the heyday of print media, teenage girls looked to magazines for this kind of instruction. We would pour over magazines looking for an intimate interview from that month's cover girl, tips on how to copy celebrity outfits, instruction on whether purple, orange or green would be the hot color of the season.
The Kardashian-Jenner apps brilliantly manipulate this desire held by teens, and even many adults, to be told point-blank what's hip — and then they take it one step further. Where teen magazines offer information and advice, the Kardashian-Jenner apps offer access. As Kylie herself admitted, the main draw is intimates access, from livestreams of their most mundane moments to personal essays that let you feel like you're stepping into celebrity lives.
You can watch Kylie make duck faces at the camera for five minutes and talk to viewers as "you guys" with her signature low-key candor. You can read Kendall's first-person explanation of why she hates the paparazzi. The bugginess of the apps only helps underscore the notion that the Kardashians and Jenners are your friends who threw together some apps, not that it's a multimillion-dollar media venture.
Plus, unlike magazines and social media, the apps ensure their users are not distracted by other voices, aka other potential arbiters of cool. As Kim said at a September panel, according to Fortune, "I just felt like there was no other platform that could do it all unless we do it ourselves."
On the surface, the Kardashian and Jenner apps feel like just another way for the family to profit off its mere existence. However, that success should be attributed not merely to Americans' fixation on the Kardashians, but to the fundamental teenage desire to be cool and relevant — the same desire that once drove teens to buy magazines. Now they can get it all with just a swipe.