9 Notorious BIG Songs That Prove He Was a Lyrical Genius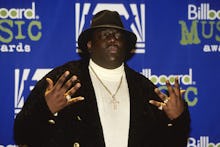 L. Busacca/Getty Images
Few rappers were as insidious to the rap game as Notorious B.I.G., signed as Biggie Smalls but born as Christopher Wallace. The former crack slinger and true Brooklynite released only one album, Ready to Die, which was produced by Sean Combs (P. Diddy) after hearing a demo, according to Rolling Stone. His second LP, aptly titled Life After Death, was released in 1997, just three weeks after Biggie was shot while leaving a party in Los Angeles. It went 10 times platinum.
Biggie had finesse in turning the gritty, hustling and womanizing lifestyle of hip-hop into wise and conversational narratives. He was in the hip-hop game during its peak East Coast-West Coast rivalry, which included Tupac Shakur, Stereogum reported. "He was terrifying, hilarious, angry, depraved, smart as hell, harrowingly bleak and shockingly profane," Slate wrote in 2014. 
Read more: Who Killed Biggie Smalls? What the FBI Files on the Murder Have Revealed About the Case
After Biggie's death, Bad Boy Records released Born Again, which was a compilation of remixes by Eminem, Snoop Dogg and Diddy. The posthumous album served as a testament to his influence. 
Although it's been almost 19 years since his death, Biggie's attitude-filled discography is as musically prevalent as if he were still alive and rapping (partially due to his posthumous collaborations that continued to roll out.) Below are some of his most unforgettable jams:
"Sky's the Limit"
This steady track opens with a recording from his mother, Voletta Wallace, and serves as a five and a half minute autobiography about going from poverty to fame. 
"Good evening ladies and gentlemen/ How's everybody doing tonight/ I'd like to welcome to the stage, the lyrically acclaimed/ I like this young man because when he came out/ He came out with the phrase, he went from ashy to classy," he rapped. Biggie raps directly at listeners, ending the song with this powerful advice: "Only make moves when your heart's in it/ And live the phrase sky's the limit."
"Big Poppa"
In "Big Poppa," Biggie brilliantly raps about himself and his many nicknames against a classically '90s hip-hop beat. The song ended up earning him a Grammy nomination in 1996 for best rap solo performance.  
"Juicy"
"Juicy" reached No. 27 on the Billboard Hot 100 in 1994 as his first single from Ready to Die. In the song, Biggie raps against Mtume's "Juicy Fruit" sample, Billboard reported. He raps about overcoming his past obstacles and how he's achieved his dream. 
"Yeah, this album is dedicated/ To all the teachers that told me I'd never amount to nothing/ To all the people that lived above the buildings that I was."
"What's Beef?"
String instruments and intimidating laughter accompany Biggie's nonchalant rhyming, according to Stereogum. Like the name implies, he raps about how real violence defines "beef" for him rather than just insulting rivalries between rappers. He raps, "What's beef? Beef is when you need 2 Gats to go to sleep/ Beef is when your moms ain't safe up in the streets/ Beef is when I see you."
"I Got a Story to Tell"
From Life After Death, "I Got a Story to Tell" is clever lyrical storytelling of Biggie telling his boys about going home with a girl who was actually in a relationship with a basketball player from the New York Knicks, according to the Boombox. In quick thinking, he pretends to be robbing the house, and the scared basketball player ends up giving him money, making for a win-win for Biggie. 
"Hypnotize" 
As one of his most well-known songs, "Hypnotize" reached No. 1 on the Billboard Hot 100 after his death in March 1997. It also earned him a 1998 Grammy nomination for best rap solo performance. The title is appropriate since his rap (which is about his well-earned lifestyle) is practically hypnotizing. 
"Mo Money Mo Problems"
This track also hit No. 1 on the Billboard Hot 100 posthumously, and became a 1990s hip-hop anthem thanks to Bad Boy founder Diddy's own involvement, according to Billboard. The song is about the downfalls to the success that the two saw. "It was the song of the year ... it literally was a game changer," Kelly Price (who sings the hook and background for the song) told BET in 2014. 
"Gimme the Loot"
In "Gimme the Loot," Biggie raps with himself in a higher register, giving the illusion of two different men scheming up a robbery. He even manages to give the two men different personalities, one being skittish and the other having his familiar baritone. 
"Suicidal Thoughts"
"Suicidal Thoughts" is the closing track from Ready to Die, and a haunting self-fulfilling prophecy of death. In the song, Biggie calls Diddy in the middle of the night because he's contemplating suicide. The guilt-ridden song lacks the women, weed and violence, but instead talks about his relationship with baby's mother, stealing from his own mother and his future funeral.
"I can't believe suicide's on my fucking mind, I wanna leave/ I swear to God I feel like death is fucking calling me/ Naw you wouldn't understand."
Correction: Feb. 18, 2016