'Girls' Season 5: Preview, HBO Premiere Date and How to Watch Lena Dunham Comedy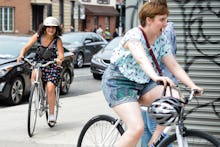 mpi67/AP
HBO's Girls returns for its fifth season on Feb. 21 at 10 p.m. Eastern. It opens on the day of Marnie's (Allison Williams) wedding to Desi (Ebon Moss Bachrach) as the gang tries to make it through their high maintenance friend's ceremony. And that looks to be the theme of season five: navigating the serious, real-life situations that arise as we grow up and become adults, which by now the girls are.
"Season five is a lot about expanding these characters' lives and putting them for the first time in truly adult circumstances and them learning just how hard that can be," Girls creator Lena Dunham explains in a preview for the season.
Read more: Lena Dunham Is Taking Time Off to Attend to Her Health, Shedding Light on a Wider Problem
At the end of season five, viewers witnessed a home birth; Jessa (Jemima Kirk) resolved to become a therapist; Marnie left alone onstage without Desi, her counterpart in music and life; Shoshanna (Zosia Mamet) headed for Japan and Hannah (Dunham) embarking on a relationship with a man called Fran (Jake Lacy), whom she chose over the long-waffling Adam (Adam Driver).
Who's coming back for season five? In addition to Marnie and Desi, Hannah Horvath, Shoshanna Shapiro, Jessa Johansson, Adam Sackler, Ray Ploshansky (Alex Karpovsky) and Elijah Krantz (Andrew Rannells) are all returning to Girls.
How to watch: Tune into HBO at 10 p.m. on Sunday. Girls will also be available to watch on HBO Go or HBO Now, both live and after its initial broadcast.