7 Drake Lyrics About Love That Prove He Wears His Heart on His Sleeve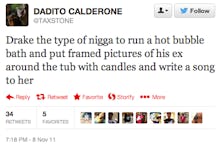 Knowyourmeme
There's no shortage of Drake lyrics pertaining to love. The abundance of emotional lyrics in his music has earned the him a reputation of being "soft," slang for anti-alpha male. The viral memes "Drake the type of nigga," dating back to 2011, liken him to an emotional punching bag, with quips like, "Drake the type of nigga to steal your girl, deeply regret it, then try to help her get back with you."
Read more: The Signficance of Drake and Kendrick Lamar's "Cold War," and Why It's Great for Hip-Hop
Drake tends to wear his heart on his sleeve more than other rappers, who rap about getting money and f*cking bitches, do. Here are some of best Drake's lovelorn lyrics.
"How About Now"
"You probably don't remember half the shit a nigga did for you/Yeah, you ain't really fuck with me way back then, girl how 'bout now?"
"From Time"
"The one that I needed was Courtney from Hooters on Peachtree/ I've always been feeling like she was the piece to complete me/ Now she engaged to be married, what's the rush on commitment? Know we were going through some shit, name a couple that isn't."
"Doing It Wrong"
"Take Care"
"And you can't sleep thinking that he lies still/ So you cry still, tears all on the pillowcase/ Big girls all get a little taste/ Pushing me away so I give her space/ Dealing with a heart that I didn't break." 
"Best I Ever Had"
"Houstatlantavegas"
"She doesn't ever worry If she wants it, she'll get it on her own/ She knows, there's more to life And she's scared, of ending up alone."
"Marvin's Room" 
"Fuck that nigga that you love so bad/I know you still think about the times we had/ I say fuck that nigga that you think you found/ And since you picked up, I know he's not around."