Wolfmother 'Victorious': Lyrics, Streaming and Download Options for New Album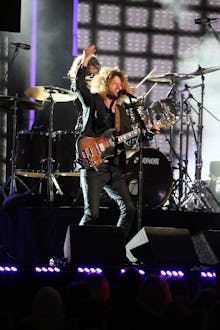 JMA/Star Max/Getty Images
Australian rock band Wolfmother will release its fourth studio album, Victorious, on Friday. It's a follow-up to Wolfmother's 2014 album, New Crown. Victorious will be available to download on iTunes, Amazon, GooglePlay and to stream on Spotify. A full track list is available on Wolfmother's website.
"Um this one, yeah I think on New Crown just the year before this one, it was sort of like a return to roots in some ways and this one was sort of like an extension of doing that," lead singer Andrew Stockdale told Loudwire in November. "You know, going back in some ways to a similar thing to what I did on the first record where like I'd play a riff just be in a room, you know, and just put down ideas and just kind of put everything together like that," "Like I'd construct the song, have the hook at the start, have the riff, then get the beat happening. So that was what I had in mind for this one."
Read more: Kendrick Lamar Got Unforgivably Snubbed Again at the 2016 Grammy Awards
The album's title track, "Victorious," was released as a single in November, followed by the music video in January. 
"The video is about a girl who's held hostage by evil alien folk, but upon hearing the powers of Wolfmother's smash hit rock 'n' roll extravaganza, the heroine is set free from the dark forces of the universe," Stockdale told Mashable. Full lyrics for the song are available from Genius.
Initial reviews for Victorious have been mixed — NPR called it "glorious proof" of Wolfmother's strengths but Consequence of Sound wrote that, in between "some solid tracks," there is "a whole lot of dreck to slough through."
Wolfmother has begun a North American and European tour — full dates, venues and tickets are available on the band's website.