Explosion at a Military Dorm in Turkey Reportedly Leaves 28 Dead, 60 Injured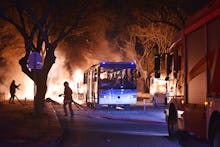 A large explosion at a military dormitory in the Turkish capital, Ankara, on Wednesday has left up to 28 dead and at least 60 injured, according to the Guardian. An official said military buses were the target.
Officials suspect a car bomb is responsible for the explosion. 
Ömer Çelik — a spokesperson for the ruling party, AKP — described the incident as a "heinous act of terrorism," the Guardian reported.
And while Veysel Eroglu, forestry minister, spoke on television, he said some officials suspected the attack was linked to a "a terrorist organization," the Guardian added.
Turkish Prime Minister Ahmet Davutoglu changed his travel plans and did not go to Brussels as scheduled for security meetings, Reuters and the Guardian reported.
Deputy Prime Minister Bekir Bozdag also described the explosion as an act of terrorism in a tweet he posted in Turkish.
Dramatic photographs of the scene reveal the extent of the damage.
The explosion occurred during rush hour near military headquarters, parliament and other official government buildings, the BBC noted. Smoke and fire were visible, and cars in the vicinity were up in flames.
Video footage of the area surrounding the attack shows a raging fire at the compound and panicking locals. 
Emergency responders have arrived at the scene and are containing the explosion and tending to those injured. 
What's behind this recent flare of violence? Turkish Prime Minister Recep Tayyip Erdogan and his ruling party, AKP, took power in 2002 and were largely welcomed in their first term — they even seemed to be reconciling with the Kurds, a group historically at odds with the Turkish government.
However, over the course of his 14-year rule, Erdogan has become more autocratic and worked to Islamize the once secular country.
In recent years, Turkey has seen protests in response to the state's tightening grip. The government has also been loudly accused of fostering a close relationship with the Islamic State group, also known as ISIS, because they have common enemies in the Kurds (who want part of Turkey for their own country) and Syrian President Bashar al-Assad.
"The AKP and the Turkish government under the AKP was the midwife of ISIS," David L. Phillips, a regional specialist and director of the Program on Peace-Building and Rights at Columbia University, told Mic in October.
"It may have buyer's remorse, but it plays a huge responsibility for supporting jihadis and radicalizing the battlefield in Syria," Phillips added.
Given the shared border with Syria, seized by its own civil war, and the radicalization of both countries, Turkey has been increasingly rocked by violence.
This story will be updated as more information becomes available. 
Feb. 17, 2016, 2:48 p.m. Eastern: This story has been updated.