Animal Collective's 'Painting With' 2016: Full Release Info for New Album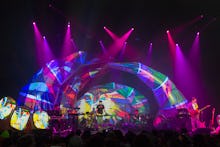 Paul A. Hebert/AP
Animal Collective is releasing its 10th studio album, Painting With, on Friday, Feb. 19. In anticipation of the drop, they released a new track Monday — "Golden Gal," available for fans' listening pleasure below. Also on Friday, the band launches its 2016 international tour with a show at Philadelphia's Union Transfer. As such, it's a big week for the band, which draws its latest inspiration from that bottomless well of human fascination: dinosaurs.
As the experimental indie outfit — made up of Dave Portner, Brian Weitz and Noah Lennox, with occasional member Josh Dibb — told Pitchfork's Jeremy Gordon, Painting With's prehistoric influences helped the band to recall its early days making music together.
Read more: Is Animal Collective On Tour? Here's What to Know About the Psych-Pop Band's Show Schedule
"In terms of that primitive style and certain tribal rhythms, you could almost rewind to what people have said about us — or what we said about ourselves — 15 years ago," Weitz told Gordon. "Each formation of Animal Collective relates to itself in a different way. When the three of us started improvising together in our New York apartments in 2000, the music always had that stripped-down, primitive aspect to it rhythmically." 
"It's sort of returning to how we related to each other a long time ago," he continued. 
In addition to "Golden Gal," Animal Collective has already released "FloriDada." The full track list for Painting With will be:
 1. FloriDada
2. Hocus Pocus
3. Vertical
4. Lying in the Grass
5. The Burglars 
6. Natural Selection
7. Bagels in Kiev
8. On Delay
9. Spilling Guts
10. Summing the Wretch
11. Golden Gal
12. Recycling
The album, which made its debut at Baltimore Washington International Airport in November, has its own Painting With app that allows users to paint together while listening to "Lying in the Grass." The album itself will be available for purchase starting Friday and, in all likelihood, on Spotify, where "FloriDada" is already posted.